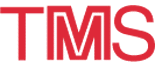 2000 TMS Annual Meeting: Exhibitor
---
March 12-16 · 2000 TMS ANNUAL MEETING · Nashville, Tennessee

For 42 years, Consolidated Ceramic Products has been of service to the aluminum industries worldwide. An innovative manufacturer and marketer of ceramic based products, it maintains operations around the world.

CCP products and services for temperature measurement, chemical modification and physical transport of molten aluminum include:
Thermocouple protection tubes.
Thermocouple elements.
ACCUTIP® Dipping thermocouples.
Ceramic coated fluxing pipe.
Riser stalk tubes.
Tapout cones with matching cast iron plugs.
Radiant and immersion heaters.
Thermal profiling and combustion engineering services.
SIALON thermocouple protection tubes, level sensors, riser stalk tubes, heater tubes, and special shapes.
Custom cast iron castings.Pre-cast liners for degassing and filtration systems.
In addition, Vision Engineered Products and C Systems, both Divisions of CCPI Inc., will be exhibiting at the CCPI booth.

Vision Engineered Products offers specialized materials for molten metal processing and high temperature applications.

---