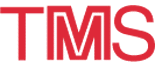 2000 TMS Annual Meeting: Exhibitor
---
March 12-16 · 2000 TMS ANNUAL MEETING · Nashville, Tennessee
Eirich Machines, Inc. of Gurnee, Illinois, manufactures the Eirich Intensive Mixer, known for the excellent mix quality it produces, its energy efficiency and its durability.

The rotating pan delivers material to a counter-rotating mixing tool, creating a fluidized zone for thorough mixing. A combination wall/bottom scraper eliminates any dead spots and assures a complete discharge.

The mixer can be configured for agglomerating or disagglomerating, coating, dispersing, fiberizing, mixing, moistening, plasticizing, reacting, slurrying, stripping or suspending. Eirich's proprietary technology, EVACTHERM® (Eirich Vacuum Thermo Technology), allows for mixing and cooling in a single unit.

Supporting equipment ranges from weighing and conveying equipment to fully automated control systems.

For more information, visit us at www.eirich.de.



---