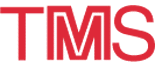 2000 TMS Annual Meeting: Exhibitor
---
March 12-16 · 2000 TMS ANNUAL MEETING · Nashville, Tennessee
---

MEGAQUIP INDUSTRIES LTD.

Booth #237

Delta, British Columbia, Canada

www.megaquip.com

---
Megaquip Industries, Ltd. specializes in the design and manufacture of unique heavy duty mobile and industrial equipment utilized in Aluminium Smelters and other industries.
Our reputation as a "Key Supplier - Partner", highlights our corporate strengths -
The ability to define both the task and the required solution.
The willingness' to do whatever is needed for any particular design requirement.

After developing some 49 proto-types, we still hold a 100% success rate.

If you expect satisfaction through value analysis and project teams, we can assure your success - MEGAQUIP - part of your team!!!!

Let us know if you have any comments or questions by contacting us by e-mail at sales@megaquip.com .

---