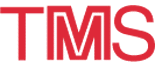 2000 TMS Annual Meeting: Short Course Description
---
March 12–16 · 2000 TMS ANNUAL MEETING · Nashville, Tennessee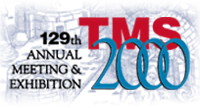 ---
ABOUT THE PRESENTERS
---
Georges J. Kipouros is a professor and Head of the Department of Mining and Metallurgical Engineering at DalTech-Dalhousie University (formerly Technical University of Nova Scotia). He obtained his Dipl. Eng. from the National Technical University of Athens, Greece and the MASc and the Ph.D. in chemical/process metallurgical engineering from the University of Toronto. After three years as a Post-doctoral Research Associate at the Massachusetts Institute of Technology (MIT), he joined the Physical Chemistry Department of the General Motors Research Laboratories in Warren, Michigan as a Senior Research Scientist, where he worked in the development of processes for the production of neodymium-iron alloys and magnesium metal. The author of over 60 scientific papers, books, and proprietary research reports is currently the Vice-Chair of the Dalhousie University Senate.
---
Donald R. Sadoway is John F. Elliott Professor of Materials Chemistry in the Department of Materials Science and Engineering at the Massachusetts Institute of Technology. He obtained the B.A.Sc. in Engineering Science, the M.A.Sc. in Chemical Metallurgy, and the Ph.D. in Chemical Metallurgy, all from the University of Toronto. After a year of postdoctoral study at MIT as a NATO Fellow, Dr. Sadoway joined the faculty in 1978. The author of over 100 scientific papers and holder of 11 U.S. patents, his principal research interests are high-temperature physical chemistry, electrochemical processes in molten salts and cryogenic liquids, and rechargeable lithium solid polymer batteries. In 1995 he was named a MacVicar Faculty Fellow, MIT's highest award for excellence in undergraduate education, and in 1997 he won the Bose Award which is given to the outstanding teacher in MIT's School of Engineering.
---
C. Edward Eckert is President of Apogee Technology, Inc. and Quantum Environmental Dynamics, Inc. He is also an Adjunct Professor of Mechanical Engineering at Worcester Polytechnic Institute and provides retained consulting services for several companies. Dr. Eckert performed his undergraduate work in Metallurgical Engineering at the University of Pittsburgh, and received his Ph.D. in Materials Engineering from Drexel University. Prior to his current positions, he managed the metal quality program at ALCOA, and was an engineering general supervisor at General Motors-Central Foundry Division. Dr. Eckert currently holds 122 US and international patents, has 39 technical publications, is Editor of the TMS book and CD-ROM, Light Metals 1999, and is a member of Sigma XI, Alpha Sigma Mu, TMS-AIME, The American Foundryman's Society (AFS), ASM International, ant he Society of Automotive Engineers (SAE). He was the 1998-99 Chairman of the TMS/LMD Aluminum Committee, and continues to serve on a number of committees for these organizations.
---
During the week of March 12-16, 2000, the
129th Annual Meeting & Exhibition
of
The Minerals, Metals & Materials Society
(TMS) will be held in Nashville, Tennessee, at the
Opryland Hotel and Convention Center
.
Molten Salt Chemistry and Process Design: From Smelter to Foundry
Presented by: Georges J. Kipouros, Dalhousie University; Donald R. Sadoway, Massachusetts Institute of Technology; C. Edward Eckert, Apogee Technology
Date: Saturday, March 11, 2000 or Saturday, March 11 & Sunday, March 12, 2000
Time: 8:30 a.m.–5:00 p.m.
Fees: One Day: $425 Member; $510 Nonmember or Two Day: $625 Member; $710 Nonmember
Who Should Attend: This course will be available as either a one or two day course. Anyone engaged in the processing of light metals or reactive metals will find this course useful. The course is aimed at practicing engineers and laboratory scientists who wish to acquire a rudimentary understanding of this unique by very important class of liquids. Instruction is systematic, self-contained, and presumes no prior specific knowledge of molten salts on the part of the participants. Participants can customize the course by raising questions during two lengthy open forum discussions which serve as clinics.
The course is structured so that those interested exclusively in molten salt electrolysis can finish in one day. For those interested in a broader range of applications, including extraction of reactive metals, casting, and purification of reactive metals, these topics and more of the relevant science are presented on the second day.
Course Overview: This course will be available as either a one or two day course. Details regarding both day one and day two are outlined below:
---
Day One Overview
---
Introduction
What are molten salts? Comparison of the physical properties of 1 M NaCl(aq) and pure molten NaCl
Statement of objectives
The breadth of the use of molten salts in industry with specific examples e.g., a partial list of applications includes:
electrometallurgy - winning, refining, plating
chemical/process metallurgy - casting, metallothermic reduction, welding
power sources - batteries, fuel cells
materials synthesis - flux assisted crystal growth, electrodeposition of compounds
Properties of molten salts classified according to types of anion e.g., fluoride, chloride, etc. on a single Periodic Table dedicated to chlorides, for example, show melting points, boiling points, electrical conductivities, vapor pressures, etc. of the salts of each of the elements.
For a subset of elements compare these properties as the anion varies: for a given element, M, look at MFx, MClx, MBrx, MIx, and even MOy and MSz
One component systems:
Thermodynamic and transport properties: density, molar volume, DVfusion, vapor pressure, electrical conductivity, thermal conductivity, diffusivities (cation and anion), viscosity atomistics/ melt structure, distinction between molten salts and ionic melts, examples of molecular melts and polymeric melts.
Binary and Multicomponent Systems:
Isothermal variation with composition of key thermodynamic and transport properties in selected binary systems: density, molar volume, vapor pressure, activity from emf measurements, calorimetric data, electrical conductivity, viscosity
Melt structure and how it varies with composition: as deduced from modeling some of the data cited earlier and as revealed by direct measurements such as Raman spectroscopy
Formation of complexes
Applications presented via illustrative case studies:
An electrolyte system for metal extraction: design considerations
Look at the electrolytic production of aluminum, magnesium, and lithium, and justify the choice of electrolyte composition, cell design, and set points of various engineering parameters
Resources
How to learn more about molten salts: books, journals, conferences, key laboratories in the world and their emphasis
Clinic
Instructors will field questions from course participants in an open forum
---
Day Two Overview
---
High-temperature physical chemistry or thermodynamics and kinetics of metallurgical reactions:
the keys to understanding how to manage everything from metallothermic reduction to metal purification
Ellingham diagrams
Rate laws
Effects of temperature and composition
Behavior of reactive gases and liquid metals
Data sets
Sample calculations
Thermochemical processes (metallothermic) for extraction of reactive metals: titanium, tantalum, neodymium, magnesium, calcium
Process design considerations
In the light of the fundamentals presented earlier in the course, justify the choice of reactor feed and reductant, reactor design, and set points of various engineering parameters
Metal purification: aluminum case study
Sources of impurities, stoichiometry and energetics of in situ salt formation, fluxing reactions, salts as inclusions, salt management
Waste treatment and other salt intensive processing operations
Technology of molten salts: production and preparation, containment, disposal, characterization and analysis
Clinic
Instructors will field questions from course participants in an open forum

Sponsored by: TMS Light Metals Division
---
Note: A tax deduction can be taken for all expenses of continuing education (including registration fees, travel, meals, and lodging) undertaken to maintain and improve professional skills. For more information concerning applicability, contact your local Internal Revenue Service office.
---
The information on this page is maintained by Christina Raabe (raabe@tms.org).