---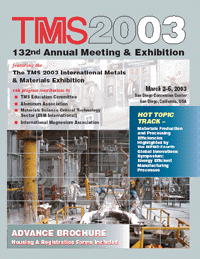 ---
ABOUT THE PRESENTER
---
Dr. Braun has been a Member of Board for VAW aluminium AG since 1996. He has been employed with VAW for 22 years in various capacities beginning with the Inorganic Chemistry Section; Anorganic Chemistry Section, R&D; Head of the Chemistry Department; Head of the Corporate Environmental Protection Department, General Agent; Authorized signatory; Head of Sales, Specialty Alumina Division; Head of the Specialty Alumina Division; Head of the Engine Castings Division; Managing Director, VAW motor GmbH; and serving most recently as Executive Manager.

He currently serves as Chairman of the Board of Management of Hydro Aluminium Deutschland GmbH (the former VAW aluminium AG). He was a member of the Executive Board, Automotive Products, for VAW in Bonn from 1997 to July 2002.

Dr. Braun was born in Plaidt, Germany. He served in the Military until 1970 then completed his Masters' degree in Chemistry at Giessen University in 1976. He completed in PhD in Natural Sciences in 1979 and earned an Advanced Management Program at INSEAD in 1991.
---
Date: Wednesday, March 5, 2003
Location: San Diego Marriott Hotel & Marina Marina Ballroom F & G
Time: 12:00 PM–2:00 PM

"The Future of Aluminium of Automotive Engines"



Presented by:
Dr. Dieter Braun, Hydro Aluminium Deutschland

About the topic:
growing demands on the safety, comfort, performance and environmental compatibility of passenger vehicles have led to an enormous increase in vehicle weight. For this reason, the development of lightweight designs with regard to vehicle construction and material substitution is of ever-greater importance. Material substitution plays a major role, especially in the engine. By substituting aluminium casting alloys for cast iron - the material traditionally used for cylinder heads and engine blocks - the weight of a medium-sized European car engine can be reduced by 30 - 35kg. Modern, highperformance petrol and diesel engines made from aluminium have to meet high specific requirements for cylinder heads and engine blocks. Solutions to important technological questions have been developed, allowing the increased use of aluminium for motor vehicle engines in the future. From 2005 onwards, more aluminium engine blocks than cast iron engine blocks will likely be used in Western Europe. With regard to cylinder heads, this substitution process of aluminium for cast iron has largely been completed in Europe.

Luncheon tickets are $30 and may be purchased at the TMS Conference Registration Desk. Tickets will NOT be sold at the door.