---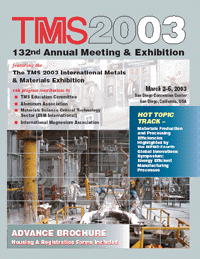 ---
ABOUT THE PRESENTER
---
At Los Alamos National Laboratory, Hurd is the Director of the Manuel Lujan Jr Neutron Scattering Center and Group Leader of LANSCE-12, the neutron scattering group. Prior to February 2001, he worked at Sandia National Laboratories where he managed a department that combines catalysis and soft matter research. Before joining Sandia in 1984, he taught physics at Brandeis University, arriving there in 1981 to do postdoctoral research in liquid crystals. His degrees are in physics from Colorado School of Mines and the University of Colorado, where he was a National Science Foundation Fellow. Currently, he is an adjunct professor of physics at the University of New Mexico and a member of their Center for Advanced Studies and Center for Micro-Engineered Ceramics.
---
Date: Monday, March 3, 2003
Location: San Diego Marriott Hotel & Marina Cardiff Room
Time: 12:00 PM–1:30 PM

"Doing Science for Fun and National Security"



Presented by:
Alan Hurd, Group Leader, Los Alamos National Laboratory

About the topic:
people want to make a difference. And they want to enjoy their careers. For some, financial impact in industry satisfies both needs; for others, teaching the next generation is the answer. In the post-9-11 era, hundreds of early career scientists and engineers discover each year that national security research at the national labs is a rewarding career path offering great intellectual diversity, challenge, and excitement. This presentation will discuss the mission of Los Alamos National Lab in the current world order and how one physicist came to appreciate national security research.

Optional box lunch for $25 may be purchased at the TMS Conference Registration Desk. Tickets will NOT be sold at the door.