---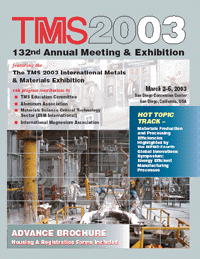 ---
ABOUT THE PRESENTERS
---

Robert E. (Bob) Brown
- Forty years of varied metals industry experience in both ferrous and non-ferrous materials. Twenty years in the technical management areas of light metal foundries or reduction plants. Metallurgical consultant to major magnesium companies. Publisher of Magnesium Monthly Review since 1971. Contributing Editor and columnist for Light Metal Age and Australian Journal of Mining. Writes annual world magnesium review for Mining Journal (London). Graduate of Michigan Tech with a BS in Metallurgical Engineering. Mr. Brown is a long time member of TMS and received a special TMS award for delivering the keynote address at the first Magnesium Technology sessions held in Nashville in 2000.
---

Gerald Cole, PhD, FASM, performed R&D in the solidification of metals and foundry engineering for most of his career, before retiring late last year from Ford Motor Company. Jerry is now a senior development advisor to the Australian Magnesium Corporation though his consulting company, Light Weight Strategies LLC. Jerry helped formulate Ford's strategy on reducing vehicle mass with cast magnesium and aluminum and worked closely with Corporate engineering and purchasing as well as Ford's Tier 1 and die casting supply base. Jerry was a director of The International Metallograpic Society, AFS's Detroit Chapter and the International Magnesium Association. He is an ASM fellow and is listed in American Men/Women of Science as well as three Who's Who. Jerry has published 130 papers and has been issued 9 patents. He has presented hundreds of seminars around the world, most recently on the automotive uses of light metals, especially magnesium. He has been an adjunct professor in materials and manufacturing at 5 universities and has prepared/presented week-long courses on magnesium in 3 countries. Dr. Cole is recognized throughout the world as a foremost automotive expert in magnesium technology.
---

Weinan Ding - Founder of Sinomag, a large Chinese metals trading group. Mr. Ding has been deeply involved in the development of the Chinese magnesium industry. He completed studies at Shanghai International Studies University and did graduate studies in Goettingen/Bonn and Berlin, Germany. Returned to China and started in the magnesium business in 1991 selling metals, including magnesium to the end users. Has worked on the staff of China National Minerals and Metals Corp. Non-ferrous division. Mr. Ding has conducted several international seminars in Beijing and has hosted visits of many Western groups to Chinese magnesium production plants in several provinces. He is also a major participant in the downstream development of the magnesium fabrication industry, including forging, rolling, casting, and powder production. Mr. Ding has presented several papers on magnesium in China, which have included cost structure analysis of both the operating costs and the construction costs. Has recently set up Sinomag, North America with warehouse in Baltimore. He is a member of International Magnesium Association.
---

Ramana G. Reddy - Dr. Ramana G. Reddy is an ACIPCO Chair Professor of Metallurgical and Materials
Engineering; Associate Director of Center for Green Manufacturing; and Adjunct Professor of Chemical Engineering at The University of Alabama, Tuscaloosa, Alabama. His academic and research work experiences include: Professor and Chairman of the Department of Chemical and Metallurgical Engineering at University of Nevada, Reno; Visiting Researcher at Lawrence Berkeley Laboratory, Berkeley; Indian Institute of Technology, Bombay; and Argonne National Laboratory, Chicago.

Professor Reddy has 20 years of teaching and research experience in the field of chemical and materials engineering. He obtained his Ph.D. degree from the University of Utah. He has conducted projects involving thermodynamics and kinetics of metallurgical reactions; Pyrometallurgy, Hydrometallurgy, Plasma processing, Molten Salt Electrolysis, Waste Processing and Fuel Cells.

Dr. Reddy has published over 172 research papers and 6 books including one undergraduate student textbook in Thermodynamics. He has also delivered more than 124 invited lectures and research presentations in USA and abroad and is the recipient of the 2002 Extraction & Processing Distinguished Lecturer Award. He has received the Service Award from the TMS Light Metals; Research Award from J. Manufacturing Society and Best Research Paper Award from Light Metals Division, TMS.
---
MAGNESIUM METALLURGY – PROCESSING AND INDUSTRIAL APPLICATIONS
Dates:
Saturday, March 1, 2003• 8:30am-5:00pm
Sunday, March 2, 2003• 8:30am-5:00pm

Presented by:
Robert E. Brown, Metallurgical Consultant
Gerald Cole, formerly Ford Motor Corporation
Weinan Ding, Sinomag
Ramana G. Reddy, Green Manufacturing
Fees:
Members $645, Non-members $735


Sponsored by: TMS Light Metals Division

Who Should Attend:
This 2-day course is intended for managers, analysts, engineers, metallurgists, scientists and any other people who are interested in gaining an in-depth understanding of the technical, commercial and economic potential of the Global magnesium industry.

Course Overview:
The magnesium industry is much smaller than the aluminum industry, but is presently experiencing dramatic growth. This course will cover the history of the global industry, production technologies, both electrolytic and thermal, that are being used to produce magnesium. The history of the various technologies, thermodynamics and electrochemical reactions and the vast improvements in cell sizes and efficiencies will be discussed. New research and new process technologies will be reviewed. An overview of the capital and operating costs of the various processes will be discussed in a general sense.

Production, downstream uses, products, and a summary of world producers and fabricators will be presented. Special emphasis will be applied to the rapidly growing magnesium fabrication industry. This will include die-casting, rolled products, forgings, extrusions, and thixomolded products. Continuous twin roll casting will be a special topic in the course.

The course will discuss the major uses of magnesium and the future of these uses. This will include magnesium as an alloying element in aluminum, magnesium in the desulfurization of steel and magnesium alloys in die-casting. Magnesium in cathodic protection and as a reducing agent for titanium, zirconium, beryllium, and uranium will also be reviewed.

Automotive applications will be reviewed; both present uses and projected future uses where the metallurgy of magnesium will present a great advantage. New alloys under development will be discussed, in particular, the high temperature resistant magnesium alloys. Some problems areas such as corrosion and safety of magnesium use will be discussed.

China has become the largest magnesium producing nation in recent years. A special section of the course will be devoted to a review of the production of magnesium in China. This will include the rapidly growing downstream industries and a discussion of the future potential of the Chinese magnesium industry to influence Western magnesium uses.

Magnesium recycling is growing rapidly on a global basis. The technologies used and the size of the industry will be discussed along with projections for the future of the industry. The course will have a special discussion on the safety aspects of handling magnesium and will conclude with a panel discussion.

Other Short Courses:
Below is a list of the other short courses that are scheduled for the 2003 TMS Annual Meeting and Exhibition: