---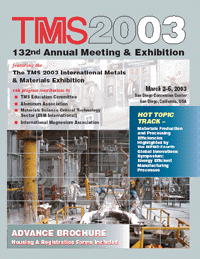 ---
NON-MEMBER STUDENTS RECEIVE A FREE YEAR OF TMS MEMBERSHIP!
---
Student members of TMS may attend the technical sessions, exhibits, and lectures held Monday through Thursday on a complimentary basis. Registration for students who are not members is $25, which will be applied toward a TMS Student Membership in 2003.
---
The
2003 TMS Annual Meeting & Exhibition
offers students, interested in materials science and engineering, a variety of opportunities to gather technical information, explore career possibilities, and network with students and professionals in the field.
5th ANNUAL TMS STUDENT POSTER SESSION
This students-only Poster Session will be held in conjunction with the 2003 TMS Annual Meeting & Exhibition. Presentations will be displayed on 4' by 4' poster boards; no formal presentation is required. The Poster Session will begin Monday, March 3 and remain in place through Wednesday, March 5. Annual Meeting attendees will have the opportunity to vote for the "Best Poster", with the winning poster receiving $500.

TMS Student Chapters – Don't forget to select a representative and submit the TMS Travel Reimbursement Program form and travel receipts, granting each chapter up to $500 per calendar year to send student(s) to TMS conferences!
STUDENT SESSION MONITORS
Students will have the opportunity to partially defray their conference expenses by serving as session monitors. Monitors are responsible for assisting the session chair, recording session attendance, and assisting with audio/visual equipment. All monitors must report to Authors' Coffee each morning they are scheduled to monitor sessions. Each monitor must check in to obtain the session sheets and then report to the assigned table to meet with the speakers and session chairs. Authors' coffee begins at 7:00 AM in Room 6A at the San Diego Convention Center. Monitors positions are limited and will be assigned on a fi rst-come basis. Monitors who do not check in before 8:00 AM will have their session reassigned. Any students wishing to monitor who have not previously completed a work form, may report to authors' coffee by 8:00 AM.
FINDING A JOB IN A TOUGH ECONOMY
Date: Sunday, March 2, 2003
Time: 1:00 PM–2:30 PM
Location: San Diego Marriott Hotel and Marina, Marina Ballroom D
Presenter: Neil Murray—University of California–San Diego
Sponsored by: The TMS Foundation

You've heard about how bad the economy is. How will it affect you? It may take you longer to find a job for the summer or after graduation. So start planning your job seach strategies now, and attend this workshop to learn how to use job listings creatively, how to network smarter, how to approach companies directly––and more! We can't promise you a job, but this workshop will get you up and running.
TMS STUDENT LEADERS CAREER FORUM
Date: Sunday, March 2, 2003
Time: 3:00 PM–5:00 PM
Location: San Diego Marriott Hotel and Marina, Laguna
Presenters include: Nik Chawla – University of Arizona, Iver Anderson – Iowa State University, Ellen Cerreta – Los Alamos National Labs

Pursuing an appropriate career path is an important task of any metals and materials student. The TMS Student Career Forum will address the many pertinent issues that face students today. Key industry figures will provide personal insight on preparation strategies, and tips on how to develop and foster a rewarding career. The speakers will also address questions from participating students during this interactive session.
TMS NETWORKING MIXER
Date: Sunday, March 2, 2003
Time: 8:00PM-10:30PM
Location: San Diego Marriott Hotel and Marina, Marina Ballroom D
Sponsored by: TMS Student Affairs Committee

Attend an event that just might open the door to endless career possibilities. This networking mixer is intended to provide a relaxed, casual, and fun atmosphere for students, faculty, government and industry officials to make connections and to share their experiences of professional growth. Don't miss out on this excellent opportunity to make the connections you need to succeed.

Beer*, soft drinks, snacks, and music will be provided. Students are encouraged to show their school pride by wearing their school's colors.

*Note: In accordance with the California State Law, alcoholic beverages will be served only to attendees who are 21 years of age or older; proper photo ID with birth date must be presented upon entry.
YOUNG LEADERS BUSINESS MEETING AND RECEPTION
You are invited to attend the TMS Young Leaders Business Meeting on Sunday, March 2 from 12:30 pm – 2 pm in Carlsbad Room and the TMS Young Leaders Reception on Sunday, March 2 from 5:00 pm – 6:00 pm in Marina Ballroom D, both at the San Diego Marriott Hotel & Marina.
DONATE A DOOR PRIZE!
Student Chapters are asked to use their creativity and donate a door prize item. TMS will also be donating items, with a grand prize surprise. The more prizes donated, the better your chance to win!
STUDENT CHAPTER SCHOOL DISPLAYS
Check out the school displays in the exhibit hall during the TMS Annual Meeting Exhibit. Student Chapters will display their chapter's activities, research projects, & school information. Booths will be judged & the best booth will win a cash prize.
STUDENT TRAVEL ASSISTANCE
TMS Technical Division Student Travel Scholarships – This program sponsored by the TMS technical division can help pay your travel expense. Students receiving travel scholarships are responsible for making their own travel and hotel arrangements and registering for the meeting. To apply for travel assistance, send a letter of application and state why you wish to attend the 132nd TMS Annual Meeting and Exhibition in San Diego, CA, by December 13, 2002. Name the TMS division in whose technical programming you are most interested, MPMD, SMD, or EMPMD, and include complete information on how you can be contacted. You must be a TMS student member to qualify. If we cannot contact you, your award will be forfeited. A subcommittee of the appropriate sponsoring division will review your letter and select the applicants to receive the travel scholarships. Those receiving travel scholarships will be contacted by TMS shortly after a decision is made. Send letters of application to:
TMS
Diane Scheuring
184 Thorn Hill Road
Warrendale, PA 15086 USA
Fax: (724) 776-3770
E-mail: dscheuring@tms.org