---

The TMS Annual Meeting & Exhibition is globally recognized as the premier forum for the metals-and materials- related industries and associated research community. More than 45 topical symposia, 200 sessions, and 1,500 individual papers are presented during the event, focusing on the state-of-the-art materials processing, analysis, and application technologies.

The participation of qualified experts and management professionals from throughout the world assures you of reaching credible prospects from all of your market segments.
EXHIBITION DETAILS
Space Rental Charges:
$20.00 per square foot—for reservations received before September 15, 2002
$22.00 per square foot—for reservations received after September 15, 2002
Space Specifications:
Standard Spaces are 10' × 10'.
The minimum space size is 10' × 10' (3.04m x 3.04m).
Contact TMS to customize space to achieve your specific marketing and budgetary objectives.
Show Dates and Hours:
| | |
| --- | --- |
| Monday, March 3, 2003 | 12:00 Noon–6:00 PM |
| Tuesday, March 4, 2003 | 9:30 AM–5:30 PM |
| Wednesday, March 5, 2003 | 9:30 AM–3:00 PM |
Your Space Rental Includes:
Security throughout the show (includes set-up, show hours and dismantle)
8' back drape and 3' side drape
44" sign identifying your company name and booth number
Aisle carpeting and aisle carpet cleaning
Comprehensive exhibitor services manual
Hosted Welcoming Reception and Coffee Breaks in the Exhibit Hall
Your Exhibit Package Also Includes:
A supply of show invitations—free admission for customers and prospects
Two complimentary exhibitor registrations to attend the TMS technical sessions
A Standard listing in the Pre-Show and On-Site Show Directories, both of which are bundled within the official show journal—JOM.
Hypertext link from the TMS virtual exhibit to your web site
Attendee Mailing Labels
One pre- or post-conference e-mail promotion to meeting attendees (performed by TMS)
One complimentary TMS Membership for 2003.
Space Reservation:
To reserve your exhibit space, or to hold space on a tentative basis, we encourage you to act immediately to both secure a prime location and to benefit fully from your TMS partnering opportunities. Our exhibit and meeting promotions are already underway. To request a specific location, review the floorplan and complete and return the Space Reservation form, access the reservation form or contact:
Cindy A. Wilson, Exhibits Coordinator
The Minerals, Metals & Materials Society
184 Thorn Hill Road, Warrendale PA 15086
Phone: 724/776-9000, ext 231
Fax: 724/776-3770
Email: wilson@tms.org
Web: http://www.tms.org
GENERAL INFORMATION
The event attracts more than 3,000 prospects, representing businesses in more than 60 countries, and presents them with your marketing message. This audience comprises key decision-makers – metals and materials production supervisors, engineers, research scientists, process managers, and corporate leaders. They will all gather at the San Diego Convention Center the week of March 2–6, 2003. These are not disinterested people just walking by your booth. These are the most qualified materials professionals in the world.

TMS will partner with you to establish effective communication with not only the attendees of the 2003 TMS Annual Meeting & Exhibition, but with more than 30,000 potential attendees. JOM, the society publication and official show magazine, has a readership of 10,000 members and subscribers. With a pass-along readership of 3:1, you do the math. That's an audience of 30,000 interested prospects. Representing quality and quantity, these professionals regularly influence and/or make the material, equipment, product, and service buying decisions for their organizations.
A UNIQUE INTERNATIONAL AUDIENCE
Not Just Traffic, but Qualified Prospects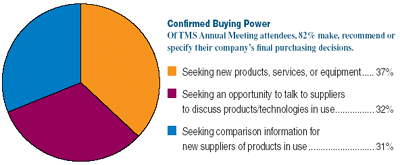 Professionals in Action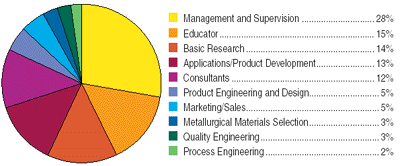 Global Reach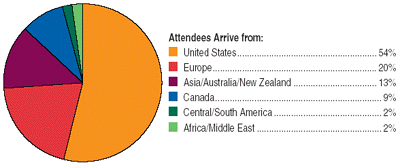 ONE EXHIBITION, MANY BUSINESS OPPORTUNITIES
Here are some of the products and services that are typically a part of the exhibit:
Air Pollution Control Equipment
Alloy Producers
Aluminum Production, Processing, Quality and Refining Systems
Automation, Computer Simulation and Software
Carbon Technology
Casting Equipment
Combustion Technology and Furnaces
Degassing
Dross Handling
Engineering and Consulting Services
Filtration Equipment
Instrumentation
Master Alloys
Measurement, Testing and Analysis
Equipment & Services
Modeling and Computer Simulation Products & Technology
Primary/Secondary Metals Producers
Process Equipment
Publishers/Information Services
Recycling/Scrap Processing
Refractory and Insulating Products
And much more!
If you are a supplier of any of the products and services listed above, or any that fill a need of the metals and materials community, you need to be at the TMS 2003 International Metals and Materials Exhibition.

Contact Cindy A. Wilson, TMS Exhibits Coordinator, at 724-776-9000 ext. 231, or wilson@tms.org to reserve your space today.
ONE-ON-ONE EXHIBIT EXPERIENCE
The exhibition itself brings it all together with an outstanding face-to-face business environment that is the primary source of practical, hands-on information, where more than 3,000 pre-qualified prospects will see technology put into practical application in problem-solving products and services. Because of the level of expertise, professionalism, and decision-making responsibility possessed by the TMS Annual Meeting attendees, your experience in the exhibit hall will be similar to a pre-qualified, one-on-one sales call rather than a random contact on a trade show floor. The exhibit is their source for the problem-solving solutions that they can put to work today.

The TMS 2003 International Metals & Materials Exhibition is designed to provide for maximum networking opportunities. Special events in the exhibit hall make it the primary gathering place for the attendees, helping to ensure time with your prospects and positive returns from your exhibit investment. At a cost of less than $1.00 per prospect, this may be your most cost efficient and successful international marketing initiative in 2003. TMS endeavors to maximize your marketing leverage by vigorously promoting the meeting and exhibition and by providing an array of supplemental sponsorship opportunities and advertising options to maximize the impact of your message.
With a Space Reservation for TMS 2003 Exhibition you will:
Establish the highest quality decision-making contacts
Develop international business relationships
Enhance your worldwide corporate identy
TMS AGGRESSIVELY MARKETS YOUR EXHIBIT
Through a sustained, wide-ranging, year long campaign, TMS alerts the global metals and materials community to the coming of the 2003 TMS Annual Meeting & Exhibition. We assure that the world knows not only of the importance, scope, and timing of the event, but also that your organization will be a prominent participant. Beginning with a call-for-papers in the spring of 2002, TMS aggressively encourages professionals worldwide—the very decision makers that you seek to reach—to join with their colleagues in San Diego next March. We invite them again and again and again.
Our marketing plan will support your marketing efforts via the following media and promotions:
Print Publications
JOM, is the official journal of the TMS Annual Meeting. It includes monthly advertisements, articles, and columns highlighting the event that reach more than 30,000 readers each month.
Frequent news releases to dozens of society, professional, and trade journals.
Advertisements in specified technical and trade publications.
News releases to San Diego and regional publications.
Pre-meeting distribution of the exhibition "pre-show" guide.
E-marketing
A comprehensive web site that provides the up-to-theminute event information including on line registration, detailed program information and attendee tools.
A dynamically maintained virtual exhibition spotlighting your products and linking to your web site.
Electronic program and interactive personal conference scheduler available via the TMS Conference Management System.
Monthly promotion in TMS e-News, the monthly electronic newsletter that is sent to more than 14,000 members and other materials science and engineering professionals—your prospects.
Segmented broadcast e-mails that shine a spotlight on meeting and exhibit updates for highly targeted audiences.
Listings and information posted to essential and highly trafficked meeting and trade show web sites.
Direct Mail
Meetings call for papers mailed to more than 20,000 professionals worldwide; thousands more will access it via the World Wide Web.
TMS 2003 Annual Meeting & Exhibition advance brochure mailed to more than 28,000 prospects.
Reminder post-card mailed to all TMS members.
Printed exhibit passes provided to you for mailing to your prospect list.
Other