---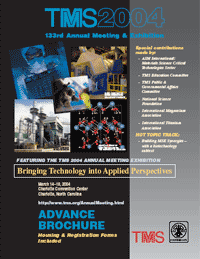 ---
ABOUT THE PRESENTER
---
Adam Jan Gesing is Director of Research and Development for Huron Valley Steel Corporation (Belleville, Michigan), one of the world's largest processors of nonferrous scrap. Since joining HVS in 1996, Dr. Gesing and his R&D team have been developing scrap preparation and metal sorting technologies, including aspects such as shredding, sizing, sink-float, magnets, eddy current, color sorting, and OES-based alloy sorting.

From 1973 to 1996, Dr. Gesing worked for Alcan International Limited, Kingston Research and Development Center, in Ontario, Canada, primarily on aluminum and magnesium reduction, ceramic electrode materials,metal-ceramic composites, aluminum recycling and remelting.

He holds a Doctorate in Materials Science from the Pennsylvania State University, and a BSc in Metallurgy and Materials Science from the University of Toronto.
---
Date: Wednesday, March 17, 2004
Time: 12:00 PM to 2:00 PM
Location: Charlotte Convention Center
Room: Ballroom C

"Assuring Continued Recyclability of Light Metals"



Presented by:
Adam Gesing, Huron Valley Steel Corp.

About the topic:
This is an update on technologies and issues in recycling, both current and future, with a light metals flavor. Discussion includes the existing global recycling system, the role of the light metals in this system and interactions between different types of recyclables and different sections of the global market. A review of current light metal recycling technologies and emerging technologies that are designed to ensure the continued complete recyclability of light metals will be given.

Luncheon tickets are $35 and may be purchased at the TMS Registration desk. Tickets will NOT be sold at the door.