FEBRUARY 13-17 · 2005 TMS ANNUAL MEETING · SAN FRANCISCO, CALIFORNIA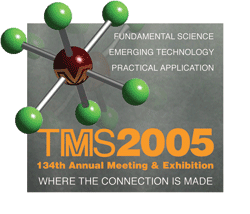 VIEW THE FINAL TECHNICAL PROGRAM
Technical Program Overview
The 2005 TMS Annual Meeting & Exhibition is the place where materials science and engineering professionals, students, and community members from throughout the world can connect fundamental science, emerging technologies, and practical applications within a single conference. The extensive technical program spotlighted at the meeting will enable connections between current research and future applications of metals and materials with more than 2,000 presentations in more than 50 symposia arranged in three general programming tracks:
TRACK 1: Materials Theory and Experiment—Connecting theory and experiment is the way in which our materials science knowledge base continues to grow. Come and discuss the advances of this field through the three primary themes:
TRACK 2: Processing and Properties—Understanding the connections between processing properties is fundamental to the ability of materials engineers to develop and implement improved processes and products. Be a part of the presentations that cover the full range of processing from basic extraction through end product manufacturing processes:
TRACK 3: Materials and Applications—The connection between materials science and engineering often occur when materials are developed for specific applications. Join us to explore and understand the diversity of materials development approaches and complexity in end use requirements through:
The 2005 TMS Annual Meeting will provide the opportunities you need to make the connections important to meeting your organization's goals as well as your professional development objectives.
BEYOND THE TRACKS—In addition to overviewing the sweeping technical programming from the track perspective shown above, you may also link to high-level overviews of