Special Events
WOMEN IN SCIENCE BREAKFAST
LECTURER

BETTY SHANAHAN
Society of Women Engineers
USA
With Betty Shanahan, Executive Director & CEO
Society of Women Engineers
Date and Time: Monday, March 13, 7 a.m.
Hosted by: TMS President Tresa Pollock
About the Lecture
The number of women choosing a career in science and engineering has been increasing over the past 40 years, but serious obstacles still remain. Betty Shanahan understands those challenges well, as an engineer and the leader of an organization that assists women in achieving their full potential in engineering careers. She will offer her experiences at this lecture to help women professionals and students striving to succeed.
About the Speaker
Betty Shanahan is the executive director and CEO for the Society of Women Engineers (SWE), an educational and service organization with 15,000 participants and 400 sections. SWE provides programs and services to help women advance in engineering and leadership careers; to expand the image of the engineering profession as a positive force in improving the quality of life; as well as to demonstrate the value of diversity. Prior to joining SWE in 2002, Shanahan worked for 24 years in development, engineering, management and marketing for the electronics and software industries. Her career ranged from the "one woman engineer" on the "Eagle" minicomputer design project at Data General to vice president of product management and marketing for the Software Components Division of Stellent Inc.
She holds a bachelor's degree in electrical engineering, a master's in software engineering, and an MBA in strategic management. In addition to being a fellow life member of SWE, she is also a member of the Institute of Electrical and Electronics Engineers.
Space is limited for this presentation; sign up to attend on the TMS 2006 Annual Meeting & Exhibition Registration form.
MATERIALS LIBRARY LECTURE AND EXHIBIT
EXHIBIT PHOTO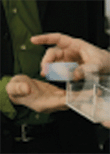 MATERIALS EXHIBIT LIBRARY
Date and Time: Tuesday, March 14, 12:30 to 2:30 p.m.
Location: Henry B. Gonzalez Convention Center, Exhibit Hall (Booth #501)
Hosted By: Mark A. Miodownik, King's College, London
"We are becoming more and more theoretical; we are losing touch with the more sensual side of what we do," so says Mark Miodownik, the curator of the Materials Library at King's College London, but the university lecturer is trying to change that.
Join us as we bring materials science to life through Dr. Miodownik's materials library exhibit and his presentation about the development and uses of materials libraries. More than 300 new materials, including aerogel, magnetic liquid and artificial skin, will be within reach at this interactive, tactile, aesthetic display!
About the Speaker
Mark A. Miodownik is a materials scientist and NESTA Fellow at King's College London, as well as the curator of the Materials Library there. He is engaged in several collaborative art/science projects including a NESTA project to build a new materials library for artists and designers, and organizes "EngineeringArt," a network dedicated to the art and science of materials.