You save when you register before February 11, 2008, for these short courses, tutorials and seminars.
SHORT COURSE DESCRIPTIONS
Grain Refinement of Aluminium Alloys: Theory and Practice
Short Course • Sunday, March 9 • 8 a.m. to 6 p.m.
Cost: $475 Members; $560 Nonmembers
Instructors
Paul Cooper, London and Scandinavian Metallurgical Co.
Douglas Granger, GRAS
Wolfgang Schneider, Hydro Aluminium GmbH
Peter Schumacher, University of Leoben
David St. John, Cast Metals Manufacturing
Who Should Attend
Professional or technical representatives in the aluminium casting industry
University researchers
Learn About
Fundamentals of nucleation and grain growth
Fundamentals of grain refinement with TiB2 and TiC
Grain refiner alloys, grain refiner tests and grain size measurement
Influence of grain refinement on product quality
Practice of grain refinement in DC casting and shape casting
Influence of casting conditions on grain refinement
About the Topic
Grain refinement is a melt treatment procedure to achieve an equiaxed grain structure of DC cast ingots and shape castings. An equiaxed grain structure facilitates fabrication and improves the yield of wrought products resp. improves the soundness of castings. To achieve an efficient grain refinement, knowledge about the grain refinement mechanisms, the different type of grain refiners, the grain refinement treatment process and the methods for the determination of the grain refinement result resp. the grain size is necessary.
Greenhouse Gas Emissions
Short Course • Sunday, March 9 • 9 a.m. to 3:30 p.m.
Cost: $475 Members; $560 Nonmembers
Instructors
Halvor Kvande, Hydro Aluminum
Jerry Marks, J. Marks & Associates
Alton Tabereaux, Consultant
Who Should Attend
HSE professionals
Aluminum industry operational employees
Others wanting to learn more about greenhouse gas emissions and their reduction
About the Topic
Industry and rapid economic growth are major contributing factors to greenhouse gas emissions, global warming and climate change. Aluminum companies have realized that future profits, competitiveness and, ultimately, the long-term license to operate, will be based on ensuring the sustainability of finite natural resources. The aluminum industry is a part of the solution to climate change, and the good story about the progress already made needs to be communicated better.
The aim of this course is to highlight the environmental challenges facing the global aluminum business, both today and in the future, and to discuss how to reduce the greenhouse gas emissions from aluminum smelters. Anode effects in industrial electrolysis cells will be treated extensively, and the road ahead, with action plans and activities to minimize negative environmental impact and achieve a greener future, will be discussed.
Nanomechanical Characterization
Tutorial • Sunday, March 9 • 1 to 5 p.m.
Cost: $100 Members; $125 Nonmembers
Sponsored by TMS Materials Processing & Manufacturing Division
Instructors
Brad L. Boyce, Sandia National Laboratories
Erica T. Lilleodden, GKSS Research Center
Who Should Attend
Scientists and engineers interested in mechanical behavior of materials at small scales, particularly nanoscale and nanostructured materials and micro and nanoscale devices
Students, post-doctoral researchers, early career as well as senior scientists and engineers involved in academic research and industrial applications of thin films and nanomaterials subject to mechanical loads
About the Tutorial
Attendees will learn about the current state-of-the-art test methods as well as emerging methods in nanomechanical characterization through two lectures: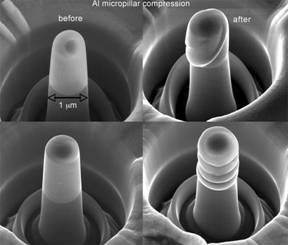 Nanoindentation-Based Techniques
Nanoindentation-based test methods, ex situ as well as in situ indentation in a TEM, will be reviewed. The focus will be on issues unique to such small volume measurements, challenges and opportunities regarding sample preparation, and novel aspects of small-scale mechanical behavior (e.g., smaller is stronger both in indentation and micro-pillar compression testing). The theoretical approaches to understanding small volume deformation, current theories and the potential for testing these theories will also be discussed.
MEMS-Based Techniques
The mechanical characterization of micro and nanostructures often requires techniques based on microelectromechanical systems (MEMS). This brief overview of MEMS-enabled techniques will highlight key elements:
(a) microfabrication processes
(b) microfabrication materials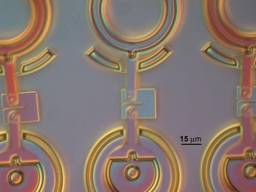 (c) mechanical actuator designs, i.e., electrostatic "comb" drives and thermal expansion actuators
(d) on- and off-chip force sensing schemes
(e) on- and off-chip displacement/strain sensing schemes
(f) implementation challenges including packaging and environmental control.
Several examples will be drawn from the literature and from work at Sandia National Laboratories, including methods for microtensile testing, fracture toughness, microtribology, delamination and fatigue. Recent advances in MEMS-based testing platforms for characterization of nanomaterials, including nanotubes and nanowires, will also be discussed.
Furnace Systems and Technology
Seminar • Monday, March 10-Wednesday, March 12 • 18 Sessions
Presenting Companies
Air Liquide
Bloom Engineering
Dantherm Filtrations
Gillespie and Powers
Harbison Walker

Hauck Manufacturing
Maerz Gautschi
Mdy/Altek
Mechatherm International
Penta Engineering

Pyrotek/Emp Inc.
Seco/Warwick
The Schaefer Group
Thermcon – Otto Junkers
Thorpe Technologies
Learn About
Basic combustion, energy savings and improving furnace productivity
Melting furnaces – style versus process, productivity, efficiency and design parameters
Burners designs – cold air, preheated, regenerative and oxy/fuel
Emissions and abatement – NOx, CO, particulate and dioxin
Recirculating process furnaces – design, purpose, production and efficiency
Metal circulation, cleaning and dross processing
Casting – type of casters and applicability
Refractory issues and practices
Contract engineering – when does it make sense?
Cost: $200 members; $250 nonmembers / includes seminar and admittance to exhibition
FOR MORE INFORMATION . . .
For additional information regarding this meeting, please complete the TMS Meetings Mailing List Form or contact:
TMS Meeting Services
184 Thorn Hill Road
Warrendale, PA 15086 USA
Tel: (724) 776-9000 x243
Fax: (724) 776-3770
Email: mtgserv@tms.org