IMPORTANT INFO

FINAL MEETING PROGRAM

TMS 2008: Linking Science and Technology for Global Solutions
Plan to attend the TMS 2008 Annual Meeting & Exhibition, March 9-13, in the rejuvenated city of New Orleans, Louisiana!
Why You Should Attend
Network with 4,000 materials science and engineering colleagues from industry, government and academia from 65 countries.
Be part of an outstanding exchange of authoritative research and technical applications.
Find novel solutions to your challenges in the minerals, metals and materials fields.
Learn through presentations of scientific research, plenary sessions, lectures, and continuing education.
Gain valuable knowledge and professional contacts to advance your work.
This interdisciplinary meeting presents programming in these topical areas:
LIGHT METALS
EXTRACTION, PROCESSING, STRUCTURE and PROPERTIES
EMERGING MATERIALS
MATERIALS AND SOCIETY New for 2008!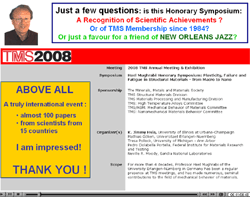 To welcome this year's annual meeting attendees, Hael Mughrabi, who will be honored at the symposium Plasticity, Failure, and Fatigue in Structural Materials—from Macro to Nano, has created an eight-minute web cast that previews his symposium, the meeting in general, and the city of New Orleans.
Mughrabi is the only TMS member to be honored with a symposium at the 2008 meeting. He is a professor at the University Erlangen-Nürnberg in Germany, has been a member of TMS since 1984, and describes himself as a friend of New Orleans jazz.
FOR MORE INFORMATION . . .
For additional information regarding this meeting, please complete the TMS Meetings Mailing List Form or contact:
TMS Meeting Services
184 Thorn Hill Road
Warrendale, PA 15086 USA
Tel: (724) 776-9000 x243
Fax: (724) 776-3770
Email: mtgserv@tms.org