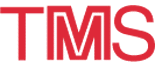 1997 TMS Annual Meeting: Exhibitor
---
February 9-13 · 1997 TMS ANNUAL MEETING · Orlando, Florida
APPLIED RESEARCH LABORATORIES
A DIVISION OF FISONS INSTRUMENTS
Booth #129     Beverly, Massachusetts
---
ARL is the world leader for instrumentation that determines the chemical composition of aluminum alloys. The instruments are ideal for any operation from foundries to incoming materials control. Designed for stability, reliability, and performances, ARL Models 2460 and 3460 Metals Analyzers provide cost effective analysis and turn-key operations.

The ARL Model 4460 Metals Analyzer combines leading edge technology, a current controlled source (CCS) and time resolved spectroscopy (TRS), to significantly improve all areas of aluminum analysis. All of ARL's Metal Analyzers embody critical success factors to meet the quality demands of today's market, such as:
Unmatched Stability and Reliability
World Class Factory Calibration
Speed and Accuracy
Most Advanced Software Technology
Advanced Technical/Service Support
ARL is dedicated to customer satisfaction by providing a distinct performance and value advantage for all quality operations.

---