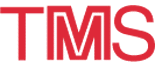 1997 TMS Annual Meeting: Exhibitor
---
February 9-13 · 1997 TMS ANNUAL MEETING · Orlando, Florida
DIXON TICONDEROGA COMPANY
Booth #436     Lakehurst, New Jersey
---

The Dixon Ticonderoga Company is a principal supplier of graphite products for industrial purposes. Our 169 years of working with this form of carbon has provided us the experience and knowledge to meet our customers' diverse requirements and ever-changing needs.

Dixon Graphokotes® offer a wide choice of lubricants for the aluminum, copper, and zinc industries. Semi-aqueous, synthetic, VM&P naptha and solvent binder formulations are available in a range of viscosities. Our graphite lubricants are formulated to provide efficient and effective lubrication in difficult environments.

Plan to visit our display booth #436 at the 1997 TMS Annual Meeting and take advantage of our technical support. See our product line of roll sheet casting, billet casting, extrusion and permanent mold casting graphite lubricants.
---