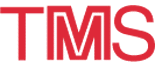 1997 TMS Annual Meeting: Exhibitor
---
February 9-13 · 1997 TMS ANNUAL MEETING · Orlando, Florida
JERVIS B. WEBB COMPANY
---

The Jervis B. Webb Company has more than 75 years of experience in managing, producing, and installing large-scale integrated material handling systems. Today, Webb material handling systems move products and materials in almost every industry.

The management and staff of the Jervis B. Webb Company are dedicated to maintaining our leading market position within the material handling industry by applying 100% of our efforts toward one product; custom engineered material handling systems.

Webb's experience in the Aluminum Smelter industry includes furnishing material handling equipment and systems for several large aluminum companies. Because of the Webb Company's diversity in the material handling field, many systems have been engineered and installed in different areas of aluminum operations.

Included in these installations are several Power & Free Systems for Rodding Rooms, with the most notable being for Kaiser, Alcoa, Alcan and Intalco. Power & Free systems offer many advantages for the handling operations involved in rod processing for butt return to delivery of the rodded anode.
---