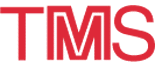 1997 TMS Annual Meeting: Exhibitor
---
February 9-13 · 1997 TMS ANNUAL MEETING · Orlando, Florida
MEDIA CYBERNETICS
---

Media Cybernetics, based in Silver Spring, Maryland, designs and markets image analysis software for end-users and software developers. Since 1981, it has held a unique position in the imaging marketplace, offering software at both the programmer's toolkit and end-user application levels. Media Cybernetics creates products that offer ease of use, creative control and are compatible with a variety of hardware and software standards.

Image-Pro Plus is an image analysis software package for Windows which provides counting, sizing, statistical and image enhancement operations. It has an intuitive and consistent interface designed to produce results quickly.

Materials-Pro Analyzer, a specialized software solution for the analysis of metals, ceramics, polymers, and other advanced materials is a "plug-in" module for Image-Pro Plus. Materials-Pro Analyzer provides materials science researchers with cost-effective and user friendly software allowing them to automate the analysis of digitized images of specific materials products. Sophisticated preprocessing routines and standard material measurements allow users to determine grain size, measure shape and orientation, gauge porosity and nodularity, and perform phase analysis.
---