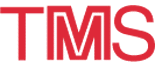 1997 TMS Annual Meeting: Exhibitor
---
February 9-13 · 1997 TMS ANNUAL MEETING · Orlando, Florida
RHENIUM ALLOYS, INC.
---

Rhenium Alloys, Inc. is the largest producer of fabricated rhenium products in the world. Founded in 1966, the rhenium powder metallurgical facility located in Elyria, Ohio, has advanced the production of high purity rhenium to ensure a consistent quality to their customers and for its own powder metallurgy fabrication.

This high technological company produces rhenium and rhenium alloyed with molybdenum and tungsten to manufacture sheet, wire and rod. Seamless molybdenum rhenium and molybdenum tubing, molybdenum disintegrating electrodes, copper tungsten wire, rod, tubing, and sheet, for EDM is produced additionally. High density ingots up to 4" in diameter formed at Rhenium Alloys, Inc. can be used to produce a variety of components utilized in both high and low temperature regimes.

The chemical department, at Rhenium Alloys, Inc., produces a high grade of rhenium as perrhenic acid, and consistently uniform metal powder. Rhenium Alloys, Inc. is dedicated to fast delivery of superior products around the world.
---