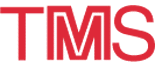 1997 TMS Annual Meeting: Exhibitor
---
February 9-13 · 1997 TMS ANNUAL MEETING · Orlando, Florida
SKAMOL INSULATION AS
---

Backed by more than 80 years experience, Skamol Insulation is one of the world's leading manufacturers of thermal insulation for the temperature range 600-1200°C (1112-2192°F) offering products based on Moler, Perlite, Calcium Silicate, and Vermiculite.

Visit our booth #329 and 331 during the 1997 TMS Annual Meeting, where Skamol will be introducing a new range of Perlite Block Insulation. The Perlite Blocks are especially applicable for insulation of aluminium reduction cell cathodes giving the benefit of good resistance to molten aluminium and quick installation due the special chemistry and the large sizes.

Further, Skamol has joined forces with Norwegian Elkem Carbon in introducing two new types of cold ramming pastes based on Electrically Calcined Anthracite (ECA). The development of these cold ramming pastes is a clear improvement of the conventional lining concept, reducing emissions of hazardous tar and PAH (polyaromatic hydrocarbons) to a minimum and increasing pot life and enhancing profitability.

Skamol Insulation will be introducing some of these new products at the 1997 TMS Annual Meeting. In addition, we are pleased to announce that our senior R&D Manager, Mr. Stig F. Johansson will be giving a lecture on the subject: Penetration Force of Bath Components into Pot Linings Described by Non-equilibrium Thermodynamics. Our sales teams from Denmark and the USA look forward to seeing you.

---