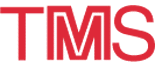 1997 TMS Annual Meeting: Exhibitor
---
February 9-13 · 1997 TMS ANNUAL MEETING · Orlando, Florida
STAS APPLIED TECHNOLOGIES SOCIETY S.T.A.S. Ltd.
Booth #226 & 228      Chicoutimi, Quebec, Canada
---
STAS specializes in the development, fabrication and commercialisation of technologically advanced equipment for the aluminum industry according to international manufacturing standards. Our clients are serviced by a network of representatives in the Americas, Europe Asia, Australia, and South Africa.

STAS is a recognised leader in its innovative abilities to supply specialized equipment according to customer needs to improve quality, reduce pollution and lower costs, using the latest in programmable automatic controls. Examples include dross coolers, molten metal jet stirrers, bed filters, HF monitors, gas injection fluxing units and crucible cleaners.

STAS is located in Quebec, where 2,000,000 tonnes of aluminum alloys are produced in the most technologically advanced plants in the world. World-class research facilities clone by, such as the Alcan R/D Centre, the Centre de Recherche Industrielle and the University of Quebec provide STAS with many opportunities to develop the latest technologies for the aluminum industry.
---