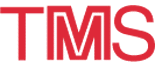 1997 TMS Annual Meeting: Exhibitor
---
February 9-13 · 1997 TMS ANNUAL MEETING · Orlando, Florida
STELTER & BRINCK, INC.
Booth #335      Harrison, Ohio
---

Stelter & Brinck, Inc. is a full service combustion engineering and manufacturing company. We are centrally located near Cincinnati, Ohio, and our experience with combustion equipment dates back to 1956. Our packaged industrial equipment offers excellent quality at a competitive price, while the reliability of our engineering and manufacturing lessens downtime and increases productivity.

Stelter & Brinck offers: Fully packaged and ready to install equipment. All equipment is prepiped and prewired. Heavy duty construction. Installation and design services available. On-site start up is available. One year guarantee on all equipment. Fully staffed service and engineering teams for later support and maintenance.

Stelter & Brinck builds a wide range of combustion equipment. The Mill Products Division serves the nonferrous and ferrous metals industry and builds the following: Sow preheaters, crucible preheaters, car bottom furnaces, aging and annealing furnaces, trough and runner castable dryers, and other specialty equipment. We also build catalytic fume oxidizers, fume incinerators, and industrial air heaters for a wide range of industries.
---