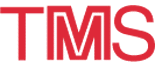 1997 TMS Annual Meeting: Exhibitor
---
February 9-13 · 1997 TMS ANNUAL MEETING · Orlando, Florida
THERMCON OVENS B.V.
Booth #617      Geldermalsen, The Netherlands
---
Melting and holding furnaces for aluminium designed and built by Thermcon are in wide spread use with major aluminium producers around the world. In recent years D.C. casting machines and homogenizing furnaces have been added to the delivery program making Thermcon an all-round supplier for turn key casthouse packages. Recycling of aluminium scrap has been a priority with Thermcon for many years already, hence the development of side well furnaces with integrated incinerators, enclosed charging systems and delacquering and preheating installations in operation with clients such as V.A.W., Daiki in Japan.

Thermcon will give an update on the latest furnace technology available and developments underway to meet the requirements of the future, both with respect to improved economics and compliance with environmental regulations.
---