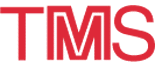 1997 TMS Annual Meeting: Exhibitor
---
February 9-13 · 1997 TMS ANNUAL MEETING · Orlando, Florida
VESUVIUS NEOMELT
Booth #618      Buffalo, New York
---

Vesuvius Neomelt is a world leader in the design, manufacture and supply of refractory products for the containment, transfer and flow control of both ferrous and non-ferrous molten metals.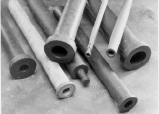 Thermocouple protection tubes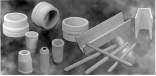 Zyarock-fused silica shapes
An extensive network of manufacturing plants, strategically located throughout the world, complement local technical and marketing organizations, geared to servicing diverse customers and industries.
Products are manufactured using a variety of forming processes including slip casting, blending, isostatic and hydraulic pressing, spinning, and injection molding.
The diversity of manufacturing processes enables the formation of a multitude of shapes and blends from many different materials including Alumina, MgO, Fused Silica, Zyacarb-silicon carbide, Tercod-carbon bonded SiC, Kelltride-silicon nitride bonded SiC, Graphitized Alumina, Zirconia, and Sialon.
The broadest range of products from a single refractory source includes, pouring pins and spouts, burner tubes, thermocouple sheaths, rotary degassing components, low pressure stalk tubes, refractory cements, crucibles and much more.
Vesuvius Neomelt is the refractory solution for your business. Please visit our booth #618 during the 1997 TMS Annual Meeting in Orlando.
---