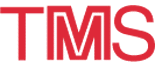 1998 TMS Annual Meeting: General Information
---
February 14-19 · 1998 TMS ANNUAL MEETING · San Antonio, Texas
LOCATION
The 127th Annual Meeting & Exhibition of the Minerals, Metals & Materials Society (TMS) will take place in San Antonio, Texas. The Marriott Rivercenter and Marriott Riverwalk Hotels will be co-headquarters for the event. Technical sessions, registration, and the exhibition will take place at the Henry B. Gonzalez Convention Center.
REGISTRATION INFORMATION
As the deadline to preregister has passed, it will be necessary to register at the Henry B. Gonzalez Convention Center during the registration hours listed below.
Sunday, February 15, 9:00 a.m.-9:00 p.m.
Monday, February 16, 7:00 a.m.-5:00 p.m.
Tuesday, February 17, 7:00 a.m.-5:00 p.m.
Wednesday, February 18, 7:00 a.m.-5:00 p.m.
Thursday, February 19, 7:00 a.m.-10:00 a.m.
POLICIES
Refunds: Written requests for refunds must be sent to TMS Customer Service, 184 Thorn Hill Road, Warrendale, PA 15086-7528. No refunds will be issued after January 16, 1998. A $30 processing fee will be charged on all cancellations.
Americans with Disabilities Act: TMS strongly supports the federal Americans with Disabilities Act (ADA) which prohibits discrimination against, and promotes public accessibility for those with disabilities. In support of and compliance with this act, TMS asks that those requiring specific equipment or services as an attendee of the TMS Annual Meeting contact the TMS Meeting Services Department and advise the staff of any specific requirements in advance.
Audio/Video Recording: TMS reserves the rights to any audio and video reproduction of all presentations at every TMS-sponsored meeting. Recording of sessions (audio, video, still-photography, etc.) intended for personal use, distribution, publication, or copyright without the express written consent of TMS and the individual authors is strictly prohibited. Contact the TMS Technical Programming Department to obtain a copy of the waiver release form.
Honoraria Policy: Some presenters may qualify for specially discounted advance registration fees if traveling from economically disadvantaged countries.
HOUSING ACCOMMODATIONS
The meeting will be headquartered in two hotels: the Marriott Rivercenter and the Marriott Riverwalk. Meeting attendees may stay at these and several other hotels at significantly discounted room rates. To receive the special TMS convention rate, download the housing reservation form (which is an Adobe Acrobat portable document file .pdf). The form provides selections by the hotel code only. You must reference the following table for hotel names and addresses, rates, and hotel codes. Also, you may view an area map on which each hotel location is indicated by a number.
HOTEL NAME/ADDRESS
RATES
HOTEL
CODE
AREA MAP
REFERENCE NO.
Marriott Rivercenter, 101 Bowie (Co-Headquarters)
Single $159, Double $175
MRC
1
Marriott Riverwalk, 711 E. Riverwalk (Co-Headquarters)
Single $159, Double $175
SAM
2
Hilton Palacio del Rio, 200 S. Alamo
Single $152, Double $167
HPR
3
Holiday Inn Crockett, 320 Bonham
Single $109, Double $119
Triple $129, Quad $139
HIC
4
Homewood Suites Riverwalk, 432 W. Market Street
Single $109, Double $116
HOM
5
Hyatt Regency San Antonio, 123 Losoya
Single $158, Double $174
HYR
6
La Quinta Convention Center, 1001 E. Commerce
Single $96, Double $96
Triple $102, Quad $102
LQC
7
Residence Inn by Marriott, 125 Bonham
Single $129, Double $129
RIAP
8
Menger, 204 Alamo Plaza
Single $99, Double $109
MEN
9
Reservations will be processed on a first-come, first-served basis until Saturday, January 3, 1998. All room charges are subject to a 15% state and room tax. Triple and quad occupancy may incur additional charges. The Housing Bureau reserves the right to assign a hotel if your first choice is sold out and other choices are not indicated.
Do not fax and mail your housing form, as this may result in a duplicate reservation. An acknowledgment will either be mailed or faxed to you (allow up to two weeks) from the housing bureau. This is not a confirmation. A confirmation will follow from the hotel in approximately 4-5 weeks.
The housing bureau does not accept phone calls regarding reservations. Please mail or fax your reservation form directly to the TMS Housing Bureau, P.O. Box 2426, San Antonio, Texas 78298; or Fax (210) 270-8702. A credit card guarantee is required for all reservations. If you wish to guarantee your room with a check, you may send a first night's deposit, upon receipt of your confirmation slip, directly to your assigned hotel. Do not mail cash or check with the housing reservation form.
Cancellations and/or changes before January 2, 1998, must be directed in writing to the TMS Housing Bureau office. After January 2, 1998 direct cancellations and/or changes to the hotel. Do not send them to the TMS headquarters office.
GUEST HOSPITALITY
A special guest hospitality area will be hosted each day of the meeting from 7:00-10:00 a.m. in the Henry B. Gonzalez Convention Center. TMS will sponsor a continental breakfast for the convenience of spouses and accompanying persons of meeting attendees. In addition, touring and shopping information, transportation schedules, and dining details will be available.
EMPLOYMENT REFERRAL BOARD
An employment referral board will be located in the Career Resource Center of the TMS Membership area. Here attendees may leave their resumes, and employers may post job openings. Also look for the table-top display promoting the TMS Resume Link service. Information and resume forms will be available with the display.
Nonmembers Only
If you attend the 127th TMS Annual Meeting and register at the nonmember fee, you will automatically receive a one-year complimentary, introductory associate membership to TMS for 1998. Associate members receive the same benefits as do full members, including a subscription to JOM; discounts on TMS publications and meeting fees; inclusion in, and access to, the TMS Membership Directory on TMS OnLine via the World Wide Web; and an array of additional personalized membership benefits and services.

In your advance registrant packet at the meeting, you will receive your membership card along with a postal card asking for additional vital information for our records, such as your birthdate, education, and work experience. Be sure stop by the TMS membership desk at the meeting and enter our grand prize drawing.

Your associate membership will be activated upon completion of your meeting registration form and payment of the nonmember registration fee. If you have any questions, please contact the TMS Member Services Department at (724) 776-9000, ext. 213 or 215.

The same offer is available to on-site nonmember registrants as well. Nonmember student registrants also qualify for student membership.
YOUNG LEADERS
All TMS members under age 35 are welcome to attend the Young Leaders Business Meeting from 4:00-5:30 p.m. as well as the Young Leaders Reception from 5:30-6:30 p.m. on Sunday, February 15, 1998, in Salon J of the Marriott Rivercenter Hotel.
DESTINATION INFORMATION
Airlines: San Antonio International Airport is 13 miles from the downtown River Walk area and is directly linked via expressway. For details on airline bookings, visit the airline reservation page.
Shuttle: From 6:00 a.m. to 6:45 p.m. the Super Van Shuttle departs from both terminals every 15 minutes. From 6:45 p.m. until 12:00 midnight, vans depart every 45 minutes. Departure from all designated hotels downtown on a request basis. The cost is $6 for adults and $3 for children (ages 5-11).
Taxi and Car Rental: Transportation from the airport is also available via taxicab. Time to the central business district is approximately 15 minutes, with fares averaging about $12-$14, plus tip. For information on renting a vehicle, visit the Hertz car rental page. Meeting attendees are eligible for a discount.
Highway Access: San Antonio has major interstate freeways leading into it from every direction. All freeways lead into the central business district where the Henry B. Gonzalez Convention Center and major hotels are located.
Climate: The average daytime high temperature in February is 66°F with nightime lows of 47°F.
CONFERENCE MANAGEMENT SYSTEM DEMO
At a special workshop on Tuesday, February 17, TMS will demonstrate its Conference Management System and review editors' responsibilities. This presentation will familiarize organizers with the direct electronic submission of abstracts and the organization of symposia via the TMS World Wide Web site. All organizers of present and future symposia, as well as technical committee members are strongly encouraged to attend.
Contact Peggy Weiss, TMS Manager of Programming Services for additional information at (724) 776-9000, ext. 227, or e-mail weissp@tms.org.
PROCEEDINGS PUBLICATIONS
At the TMS Publications Sales area in the Henry B. Gonzalez Convention Center, you will be able to examine more than 150 individual titles on nearly every aspect of minerals, metals, and materials technology, including many at special reduced prices. Also available will be 15 concurrent publications from the meeting (check the technical program for details on which titles will be available). These books may be pre-ordered on the advance registration form. You may pick-up the books on site or you may have them mailed directly to you by indicating such on the registration form.
Distribution of Authors' Complimentary Copies: Distribution of complimentary copies to primary authors will only be done on site at the 1998 TMS Annual Meeting. Primary authors will receive a ticket with the authors' mailing. The ticket may be exchanged at the TMS Publications Sales area of the convention center for the complimentary copy. Arrangements to ship books must be made at the meeting and the standard shipping fees paid. TMS accepts no responsibility to provide complimentary copies after the conference.
BUSINESS SERVICES CENTER
Sack Sitters will provide exclusive business services for all 1998 TMS Annual Meeting attendees. Located in the Henry B. Gonzalez Convention Center, Sack Sitters will be open Monday, February 16, through Thursday, February 19, during meeting registration hours. A representative will be available to assist you with the following services:
Package/shipping service
Storage
Faxing and photocopying
"Booth Boutique": Emergency sundries for sale to attendees, including tape, pens, paper, glass cleaner, white-out, etc.
CREATIVE DINING & ENTERTAINMENT SERVICE
Where shall we dine tonight? Where shall we go for entertainment? Where is a good place to shop? Let Creative Dining & Entertainment answer all of your questions while you're in San Antonio attending the 1998 TMS Annual Meeting. Whether your restaurant and entertainment needs are for a party of one or a group of 50 or more, Creative Dining & Entertainment will recommend and make your reservations at San Antonio's most enjoyable restaurants, golf courses and entertainment loctions.
For more information, come by the Creative Dining & Entertainment booth located in the arcade area of the convention center. Hours of operation are as follows:
Sunday, February 15, 12:00 noon-6:00 p.m.

Monday, February 16, 10:00 a.m.-5:30 p.m.

Tuesday, February 17, 10:00 a.m.-5:30 p.m.

Wednesday, February 18, 10:00 a.m.-5:30 p.m.
DAILY RAFFLES
If you are an attendee of the 1998 TMS Annual Meeting, be sure to stop by the member services desk in the convention center and drop your business card into the bowl to enter the daily raffle. There are five chances to win. Prizes are a complimentary weekend lodging at next years annual meeting in San Diego, California, or choose a complimentary dinner for two at one of San Antonio's finest restaurants. Also, there will be a Grand Prize drawing on Thursday, February 19, for $100 cash.
CHECK YOUR E-MAIL
Do you need to check your e-mail messages? This years annual meeting features an e-mail corral located in the center of the Exhibit Hall. Stop by anytime during exhibit hours. This service is sponsored by Refractory Technology, Inc.

---
The information on this page is maintained by the TMS Customer Service Center (csc@tms.org).