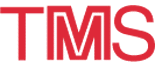 1999 TMS Annual Meeting: Concurrent Proceedings Publications
---
February 28-March 4 · 1999 TMS ANNUAL MEETING · San Diego, California

During the week of February 28-March 4, 1999, the 128th Annual Meeting & Exhibition of The Minerals, Metals & Materials Society (TMS) will be held in San Diego, California at the San Diego Convention Center.

The TMS Publications Sales area will be located in the convention center. Attendees will be able to examine and select from more than 150 proceedings volumes, textbooks, monographs, and CD-ROMs, many at specially reduced prices. Information on nearly every aspect of minerals, metals, and materials technology will be available. Also available will be the concurrent publications listed below. Each of these titles contain the proceedings from a symposium being presented at the meeting and will be available for pick-up on site.

Hours for the Publication Sales Area will be:
Sunday, February 28, 11:00a.m.-7:00p.m.
Monday, March 1, 7:00a.m.-5:00p.m.
Tuesday, March 2, 7:00a.m.-5:00p.m.
Wednesday, March 3, 7:00a.m.-5:00p.m.
Thursday, March 4, 7:00a.m.-12:00noon
Pre-ordered Concurrent Proceedings Volumes: If you ordered proceedings volumes in advance via the advance registration form, you will receive a ticket in your registration packet. This ticket should be presented at the designated pre-ordered book distribution desk in the convention center. All pre-ordered books must be picked up on-site at the meeting unless arrangements for shipment are made and the appropriate shipping fee is paid in advance.
Distribution of Authors' Complimentary Copies: Distribution of authors' copies will only be done on-site during the meeting. Primary authors will also receive a ticket with the authors' mailing which may be exchanged at the TMS Publications Sales area of the convention center for their complimentary copy. As mentioned above, arrangements to ship books must be made at the meeting and the standard shipping fees paid. TMS will accept no responsibility to provide complimentary copies after the conference, nor will TMS absorb shipping costs to distribute same.
---
1999 TMS Annual Meeting Concurrent Proceedings Publications
---
The information on this page is maintained by the TMS Customer Service Center (csc@tms.org).