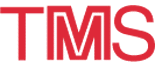 1999 TMS Annual Meeting: Exhibitor
---
February 28-March 4 · 1999 TMS ANNUAL MEETING · San Diego, California
ASBURY FLUXMASTER OF UTAH, INC.
---

Asbury Fluxmaster, a division of Asbury Carbons, produces and markets a line of high quality consumable foundry materials. These materials include a wide range of aluminum fluxes, titanium products, degassers, coatings, and injection fluxes. Asbury Fluxmaster was added in 16 years ago as a division to our 100+ year old parent company to expand our historic strength into the non-ferrous metals market.

Asbury Fluxmaster offers customers the benefits of a professional, knowledgeable staff, a proven line of products, custom packaging options, and quality customer service. Asbury Fluxmaster products are marketed and sold in the United States through our network of Territory Managers and distributors. Fluxmaster also has international agents and sales in over 20 countries.

Asbury Fluxmaster is QS9000 certified. Call Asbury or stop by booth #314 to give our professional staff the opportunity to impress you. Our telephone number is (510) 799-3636, fax is (510) 799-7460, or visit our web page at http://www.asbury.com.

---