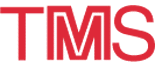 1999 TMS Annual Meeting: Exhibitor
---
February 28-March 4 · 1999 TMS ANNUAL MEETING · San Diego, California
CAST HOUSE TECHNOLOGY LTD.
Booth #529     Quelph, Ontario, Canada
---
Cast House Technology specializes in hot metal handling and metal treatment systems. In particular in-line trough degassing equipment, and pulsed water cooling technology for controlling butt distortion in heavy sheet ingot. Featured at the 1999 TMS Annual Meeting & Exhibition are the Cast House Submerged Jet Trough Degassing Reactor and the Cast House Pulsing Valve.

---