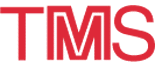 1999 TMS Annual Meeting: Exhibitor
---
February 28-March 4 · 1999 TMS ANNUAL MEETING · San Diego, California
EIRICH MACHINES
---

Eirich Machines, Inc. of Gurnee, Illinois, is a manufacturer of mixing and pelletizing equipment for the ceramic, metallurgical and other industries.

The famous Eirich Intensive Mixer, well known for the excellent mix quality it produces, its energy efficiency and its durability, can be configured for batch or continuous operation. It is available in a variety of different sizes from lab mixers to large capacity production units suitable for most industrial requirements.

Eirich also offers disc pelletizers and mix/pelletizers for the manufacture of granules made from dry solids only or sludge with dust. The mix/pelletizer combines both the mixing and the pelletizing processes within the same piece of equipment thus saving space and reducing the initial investment.

Supporting equipment includes a wide variety of metering, weighing, conveying and discharging systems, as well as superior control and process data technology for fully automated processes.

---