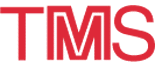 1999 TMS Annual Meeting: Exhibitor
---
February 28-March 4 · 1999 TMS ANNUAL MEETING · San Diego, California
KBM AFFILIPS B.V.
Booth #416     Oss, Netherlands
---
KBM AFFILIPS is dedicated to the development, manufacture and marketing of specialty master alloys for the metallurgical industry. The company is backed by manufacturing facilities located in the Netherlands (KBM) and Belgium (AFFILIPS). Both KBM and AFFILIPS are fully ISO 9000 approved and offer the most complete range of master alloys for the metallurgical industry. Products for the aluminium industry include AlTiB, AlTiC, AlB, AlSr as well as a full range of hardeners, tablets, and briquettes (a.o. Cr, Fe, Mn & Ti). The very complete product range for the copper industry includes products like CuB, CuCo, CuCr, CuFe, CuMg, CuSi, CuTi & CuZr. KBM AFFILIPS is also the right address for NiMg (and compex FeNiMg), additives for super alloy production as well as Pb and Zn master alloys.

For further information please visit our booth 416 or contact us at telephone + 31 - 412 - 681311; fax + 31 - 412 - 635594; or e-mail info@kbmaffilips.com.
---