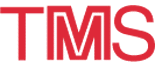 1999 TMS Annual Meeting: Exhibitor
---
February 28-March 4 · 1999 TMS ANNUAL MEETING · San Diego, California
MURLIN CHEMICAL INC.
Booth #707      West Conshohocken, Pennsylvania
---
Murlin Chemical, Inc. supplies bone ash to the world wide non-ferrous metal industry. Established in 1978, Murlin Chemical manufactures natural bone ash and synthetic bone ash at its plant in West Conshohocken, Pennsylvania, USA.

Bone ash is accepted by the non-ferrous metal industry as the premier release agent. Application of bone ash to a mold, surface, or tool exposed to molten metal, provides a consistent barrier against attack by the molten metal as well as quick, easy release of a casting.

Plan to visit booth 707 to learn more about the advantages of bone ash. You may contact us anytime at (phone) 610-825-1165, (fax) 610-825-8659 or e-mail at murlincm@ix.netcom.com.

---