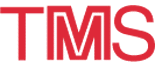 1998 TMS Annual Meeting: Exhibitor
---
February 15-19 · 1998 TMS ANNUAL MEETING · San Antonio, Texas
PYROTEK INC.
Booth #506      Spokane, Washington
---


Floats, pins, transition ring, and caster tip section
Pyrotek offers aluminium producers a complete range of materials for applications in carbon bake, pot rooms, and casting areas. At TMS in San Diego, California, Pyrotek will exhibit high-tech ceramics, casting tips for strip casters, and many other products special for aluminium operations. Of particular interest will be an exhibit of the latest Alpur degassing equipment with fully sealed reaction chambers to reduce oxidation and increase the life of graphite parts.
For more information contact Pyrotek, E. 9503 Montgomery Ave., Spokane, WA 99206; USA. Telephone (509) 926-6212 or fax (509) 927-2408.

---