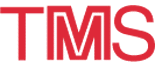 1999 TMS Annual Meeting: Exhibitor
---
February 28-March 4 · 1999 TMS ANNUAL MEETING · San Diego, California
SECO/WARWICK
---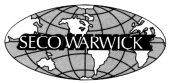 SECO/WARWICK produces Custom Engineered Heat Processing Furnaces and Systems for heat processing non-ferrous metals. We want to be your single source for furnace systems, beginning with initial support services, continuing through manufacturing, installation, furnace start-up and personnel training. Focused Project Teams concentrate on specific specialty areas:
Aluminum Braze Team - Controlled atmosphere brazing using a non-corrosive flux process for appliances and automotive heat exchangers: radiators, condensers, oil coolers, evaporators, heaters and charge air coolers.
Aluminum Process Team - Heat treat furnaces for annealing, homogenizing, preheating and aging of aluminum.
Molten Metal Team - Melting furnaces for non-ferrous metals including melting sows, solids and scrap, cleaning molten metal before casting, die casting, aluminum recycling and magnesium recycling.
Solution Heat Treat Team - Aluminum solution heat treating furnaces for castings, forgings, extrusions, aeronautical applications and billet preheating.
SECO/WARWICK is ISO 9001 Certified for Quality.

---