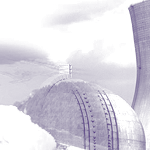 IMPORTANT DATES
Welcoming Reception
August 14, 2005


Technical Thrust
Purpose
Environmentally induced materials problems cause a significant portion of nuclear power plant outage time and are of great economic and safety concern both for operating light water reactors that continue to age and for the next-generation systems that are currently being designed. The purpose of this conference is to foster the exchange of ideas about such problems and their remedies in nuclear power plants using water coolant.
Focus
The conference focuses on the degradation of nickel base alloys, stainless steels, pressure vessel and piping steels, zircaloys, and other alloys in water environments relevant to reactor vessels and internals, steam generators, fuel cladding, irradiated components, fuel storage containers, and balance of plant components and systems. A new topic for the 12th conference is materials degradation issues for supercritical water-cooled reactors and other generation IV water-cooled nuclear energy systems.
Format
The established conference format allows scientists and engineers concerned with environmental degradation processes (corrosion, mechanical, and radiation effects) to exchange views and present their latest results through a combination of invited and contributed presentations.
The conference is of interest to utility engineers, reactor vendor engineers, plant architect engineers, and consultants involved in design, construction, and operation of water reactors, as well as researchers concerned with the fundamental nature of materials degradation.
POST CONFERENCE PROCEEDINGS
Conference proceedings will be published as a CD-ROM planned for completion in October 2005. One copy of the proceedings will be shipped to each full registrant when the CD is available. Additional proceedings CD-ROMs can be purchased on the registration form. The cost of each volume is $102 (shipping and handling included).