---
12TH INT'L CONFERENCE ON METALLIC ORGANIC VAPOR PHASE EPITAXY MENU
---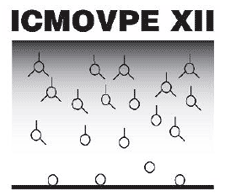 DOWNLOAD THE COMPLETE PROGRAM
[9.35 Mb]
NOTE: If you experience difficulties while attempting to access any of the PDF files above, please save the file to your hard drive and open the file using the Adobe Acrobat Reader "Open" command directly.
COMPLETE TECHNICAL PROGRAM
The technical program for the meeting, inclusive of full abstracts, is available for download as a PDF file.
INVITED SPEAKERS
A partial list of invited speakers includes:
A. Allerman (Sandia, USA)
Y. Arakawa (University of Tokyo, Japan) - Plenary Speaker
O. Briot (University of Montpellier, France)
M. G. Craford (Lumileds, USA) - Plenary Speaker
J. Edmond (CREE Research, Inc, USA)
K. Matsumoto (Nippon Sanso, Japan)
J. Redwing (Penn State University, USA)
H. B. Schlegel (Wayne State University, USA)
W. Seifert (University of Lund, Sweden)
N. Shibata (Toyoda Gosei, Japan)
W. Stolz (Marburg University, Germany)
C. Wang (Lincoln Labs, USA)
T. Zettler (Laytec, Germany)
PROCEEDINGS
One copy is complimentary with a paid full registration. A paid student registration fee does not include a copy of the proceedings. Additional copies of the symposium may be purchased at $75 per book.
TECHNICAL INQUIRIES
Please address all technical inquiries to the Organizing Committee Conference Chair, Steven DenBaars.
LATE NEWS ABSTRACTS
A limited number of Late News Abstracts will be considered. A copy of the abstract should be submitted to the program co-chair, Thomas Kuech, no later than May 8, 2004. Authors of accepted papers will be notified before the conference.
POSTER SESSION
A poster session will be held in conjunction with ICMOVPE. Presentations will be displayed on 4' x 8' poster boards; no formal oral presentation is required. The poster session will begin on Monday, May 31 and remain in place through Thursday, June 3. Abstracts of 150 words or less must be submitted to TMS by March 1, 2004. Poster abstracts will be included in the rear of the proceedings. Abstracts may be submitted through the TMS Conference Management System (CMS) via the World Wide Web, or e-mail raabe@tms.org, or mail to Christina Raabe, TMS, 184 Thorn Hill Road, Warrendale, PA 15086, Fax: (724) 776-3770.
TENTATIVE SCHEDULE OF EVENTS
Sunday, May 30, 2004
Registration
3:00 PM-9:00 PM
Welcoming Reception
(Sponsored by EMF Ltd.)
7:00 PM-10:00 PM
Monday, May 31, 2004
Registration
7:30 AM-4:00 PM
Opening Remarks
8:30 AM-9:00 AM
Plenary Session
9:00 AM-10:20 AM
Coffee Break
10:20 AM-11:00 AM
Sessions
11:00 AM-12:20 PM
Exhibition Hours
12:00 PM-5:00 PM
Lunch
(Sponsored by Veeco)
12:30 PM-2:00 PM
Sessions
2:00 PM-3:30 PM
Conference Excursions
Tuesday, June 1, 2004
Registration
7:30 AM-6:00 PM
Exhibition Hours
7:30 AM-12:00 PM
Sessions
8:30 AM-10:40 AM
Coffee Break
10:40 AM-11:20 AM
Sessions
11:20 AM-12:20 PM
On Your Own Lunch
12:30 PM-2:00 PM
Sessions
2:00 PM-3:20 PM
Poster Sessions/Reception
(Sponsored by Nippon Sanso)
6:00 PM-8:00 PM
Wednesday, June 2, 2004
Registration
7:30 AM-4:00 PM
Exhibition Hours
7:30 AM-12:00 PM
Sessions
8:30 AM-10:40 AM
Coffee Break
10:40 AM-11:20 AM
Sessions
11:20 AM-12:20 PM
On Your Own Lunch
12:30 PM-2:00 PM
Sessions
2:00 PM-3:50 PM
Thursday, June 3, 2004
Registration
7:30 AM-5:00 PM
Sessions
8:30 AM-10:20 AM
Coffee Break
10:20 AM-11:00 AM
Session
11:00 AM-12:20 PM
On Your Own Lunch
12:30 PM-2:00 PM
Sessions
2:00 PM-5:00 PM
Coffee Break
3:30 PM-4:10 PM
Banquet Reception
(Sponsored by Akzo Nobel)
6:30 PM-7:30 PM
Conference Banquet
(Sponsored by Aixtron)
7:30 PM-10:30 PM
Friday, June 4, 2004
Registration
7:30 AM-12:00 PM
Sessions
9:00 AM-10:50 AM
Coffee Break
10:50 AM-11:30 AM
Sessions
11:30 AM-12:10 PM
Final Remarks
12:10 PM-12:30 PM