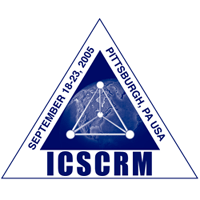 IMPORTANT INFO
Late News Abstracts Submission Deadline
August 1st, 2005
Manuscript Submission Deadline (invited, regular, late news)
September 1st, 2005
Revised Paper Deadline
October 14, 2005
Manuscripts for invited, regular, and late news papers, must be received by September 1, 2005, to be considered for inclusion in this conference.
Technical Program
The technical program for ICSCRM 2005 begins on Monday, September 19th and concludes on Friday, September 23th.
Papers and technical sessions will be centered around the following broad topic areas:
Materials Growth (Bulk and Epitaxial)
Materials Characterization and Theory
Device Processing
Device Optimization/Performance
For additional details, please view the ICSCRM 2005 Technical Program (3.1 Mb PDF).
Date & Time: September 22, 8:00-9:30 PM
Location: Ballroom
On Thursday evening, an Industrial News session will be held to highlight the commercial development status of SiC materials and devices. Light refreshments will be available.
Participants:
Session Chairman:
Dr. Allan Hefner, NIST
Market projection:
Olivier Nowak. WTC, Inc.
SemiSpec Update:
Jim Oliver, NGC
Substrates:
I. Zwieback, II-VI
A. Powell, Cree, Inc.
Bouloumi Saber, SiXtal
Cengiz Balkas, Intrinsic
Alex Ellison, Norstel
Devices:
Anant Agarwal, Cree
J. Casady, SemiSouth
Peter Friedrichs, SiCED
Steve Arthur, GE/CRD
POSTER SESSION INFORMATION
Each author will be provided an 8' long x 4' high poster board for display purposes. Authors are responsible for the set up and tear down of their printed material. Any visual aids which might clarify the results of work are encouraged. These can include diagrams, charts, figures, illustrations, etc. However, do not post your paper text.
Note that graphics should be simple, colorful, well-labeled, and clear. The title should be written in letters 2 to 5 cm high, and all material should be readable from a distance of 2m.
The presenting author is responsible for registering for the meeting and making housing arrangements.
If a situation develops where it will be impossible for the designated lead author or a co-author to personally present the poster at the meeting, please notify the TMS Programming Department immediately. TMS must pre-order and absorb the cost of each poster board rental and delivery. Any author not giving proper notice of cancellation may be invoiced for the expense of said poster boards.
Prospective authors should submit a 250-word abstract electronically through the CMS-plus. The deadline for Late News abstract submission is August 1 , 2005. Abstracts must be received by this date for consideration in this conference.
Please contact the Programming Services Department at TMS for assistance or further instruction. TMS Technical Programming Department Telephone: (724) 776-9000, ext. 212, Email: raabe@tms.org.
Each Session Room will be equipped with the following:
High Resolution LCD Projector
Switcher (allows up to 4 computers (PC or Mac) to be plugged into the LCD Projector and ready for presentation)
Podium/Microphones
Laser pointer
Overhead Projector
Video Monitor (projection to hallway monitors -- without audio -- is planned)
NOTE: Computers are NOT supplied. We STRONGLY encourage authors to bring their own laptop, either Mac or PC to avoid any issues with software. However, session chairs have been asked to gather presentations for pre-loading onto his/her computer prior to the technical sessions for those authors who did not bring their own computer or have technical difficulties with it. So, please bring a back-up on memory stick.
Authors are asked to set up their laptop at one of the 4 switches a few talks in advance of their own timeslot. This helps facilitate the smooth transition between presentations. All presentation equipment in the session rooms is available for practice starting at 7:00 am and during the coffee and lunch breaks.
FOR MORE INFORMATION . . .
Please contact the Programming Services Department at TMS for assistance or further instruction.
TMS
Technical Programming Dept.
184 Thorn Hill Road
Warrendale, PA 15086
telephone (724) 776-9000, ext. 212
fax (724) 776-3770
Email: raabe@tms.org