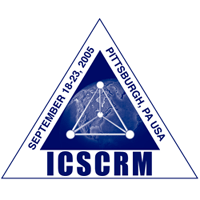 IMPORTANT INFO
Late News Abstracts Submission Deadline
August 1st, 2005
Manuscript Submission Deadline (invited, regular, late news)
September 1st, 2005
Revised Paper Deadline
October 14, 2005
Manuscripts for invited, regular, and late news papers, must be received by September 1, 2005, to be considered for inclusion in this conference.
The ICSCRM 2005 Exhibition
The International Conference on Silicon Carbide and Related Materials has become the preeminent forum to discuss new research results and assess the true "state of the art" for SiC, gallium nitride (GaN) and other related wide bandgap semiconductors—spanning the spectrum from fundamental science of materials through device performance.
Semiconductor materials science and technology have provided a solid foundation for the remarkable performance of current electronic and optical device technology. Silicon carbide has been studied for decades, but recent development has firmly established commercial products in optical, RF and power components.
The ICSCRM Exhibition brings the technical audience to you with:
Exhibition conveniently located adjacent to main meeting room.
Conference coffee breaks scheduled in exhibit hall.
Exhibit hours complement the technical program.
Sunday, September 18th . . . . .

7:00 PM - 9:00 PM

Monday, Sept. 19th . . . . .

7:30 AM - 10:30 AM
2:30 PM - 5:15 PM

Tuesday, Sept. 20th . . . . .

7:30 AM - 10:30 AM
2:30 PM - 5:15 PM

Wednesday, Sept. 21st . . . . .

7:30 AM - 10:30 AM
EXHIBITOR SPACE RESERVATIONS

Exhibitor space reservations are available on a first-come, first-serve basis. Complete and submit the space reservation form either:
The exhibition package cost $1,100 and includes the following components. Additional items or services are available upon special request.
One (1) complimentary conference registration
8 ' × 10' draped space
One (1) six foot draped table
Two (2) chairs
Wastebasket
Standard 110v electrical service
Other great opportunities still exist to get your company involved in this exciting conference and exhibition. Please contact Cindy Wilson at wilson@tms.org for more information.
FOR MORE INFORMATION . . .
For any questions on this or future exhibitor opporutnities through TMS, please contact:
Cindy A. Wilson, Exhibits Coordinator
TMS
184 Thorn Hill Road
Warrendale, PA 15086
Tel: 724-776-9000 x231
E-mail: wilson@tms.org