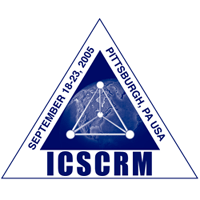 IMPORTANT INFO

Citation Format
Materials Science Forum Vols. 527-529, pp. ??-?? (2006)

Edited by Robert P. Devaty, David J. Larkin and Stephen E.


Welcome to the Int'l Conference on Silicon Carbide and Related Materials 2005
The International Conference on Silicon Carbide and Related Materials (ICSCRM) has become the pre-eminent forum to discuss new research results and assess the true "state of the art" for SiC, gallium nitride (GaN) and other related wide bandgap semiconductors.
Semiconductor materials science and technology have provided a solid foundation for the remarkable performance of current electronic and optical device technology.
Wide bandgap semiconductors, typically defined as materials exhibiting an electronic bandgap greater than 2.9 eV, are emerging as materials capable of driving continued device performance enhancements for many years to come.
SiC has been studied for decades, but recent developments have firmly established commercial products in optical, RF and power components. Continued research in the field will assure that the rapid developmental timeline for SiC-based device technology can proceed.