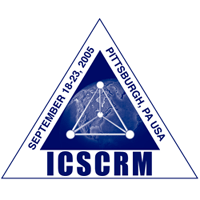 IMPORTANT INFO
Late News Abstracts Submission Deadline
August 1st, 2005
Manuscript Submission Deadline (invited, regular, late news)
September 1st, 2005
Revised Paper Deadline
October 14, 2005
Manuscripts for invited, regular, and late news papers, must be received by September 1, 2005, to be considered for inclusion in this conference.
Manuscript Submission Instructions
Please read the following information for submitting manuscripts.
MANUSCRIPT PREPARATION INSTRUCTIONS
Prepare camera-ready manuscripts for the Proceedings of ICSCRM 2005 according to the instructions of Trans Tech Publications. A Manuscript Template (in Microsoft Word format) with instructions is provided for your convenience.
See the Editorial Evaluation Form (PDF) for a checklist, which will be used to check that your manuscript conforms to the requirements of the publisher.
The Trans Tech Publications template is set up for A4 paper. Do not change the margins.
Invited papers (both oral presentations and posters) are allocated a maximum of six (6) pages. Contributed papers (both oral presentations and posters) are allocated a maximum of four (4) pages.
Please provide keywords. Do not use PACS numbers or general keywords such as "silicon carbide" or "gallium nitride". Keywords are used to prepare the index. You should choose keywords that will be likely to lead interested readers to your paper.
E-mail addresses for authors are optional for the manuscript.
The only acceptable file formats are Microsoft Word or PDF (RTF and LaTex file types will not be accepted).
The deadline for all manuscripts (invited, regular, late news) is September 1, 2005.
Reviewers will receive manuscripts at the Registration Desk beginning on Sunday, September 18, to be refereed during the conference. Referee reports must be completed and returned to the Editorial Office by noon on Thursday, September 22.
Manuscripts which are not available for review at the time of the conference cannot be included in the Proceedings. There will be no exceptions!
The status of manuscripts will be provided using poster boards at the Editorial Office during the conference. The final status of all papers will be available by the afternoon of Friday, September 23. Please visit the Editorial Office to pick up your manuscript(s) and referee report(s) (if revisions are required) before leaving the conference.
The deadline for revised papers is Friday, October 14, 2005.
The manuscript template, copyright form, and offprint order form may also be downloaded from the Trans Tech Publications web site.
MANUSCRIPT SUBMISSION INSTRUCTIONS
Once your manuscript is complete, please e-mail the PDF or Word file to programming@tms.org.
Include your name and abstract # in the subject line of the e-mail.
(Not sure what your abstract number is? Please reference this Author Guide (PDF) showing each abstract number, author name and paper title for all papers accepted for presentation at the Conference. )
A Copyright Form (Microsoft Word format) for each manuscript must be submitted. There are three ways to submit the copyright form:

Fax the signed form to Ms. Laura Rea at +01-937-255-4913 before 16 Sept 2005.
Mail a copy to Dr. Robert Devaty, Department of Physics and Astronomy, 100 Allen Hall, University of Pittsburgh, Pittsburgh, PA 15260.
E-mail a scanned copy of your form to Dr. Steve Saddow.

If you wish to order offprints, fill out the Offprint Order Form (Microsoft Word format) and submit with your copyright form to the editor.
FOR MORE INFORMATION . . .
Please contact the Programming Services Department at TMS for assistance or further instruction.
TMS
Technical Programming Dept.
184 Thorn Hill Road
Warrendale, PA 15086
telephone (724) 776-9000, ext. 212
fax (724) 776-3770
Email: raabe@tms.org