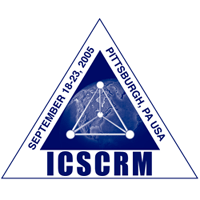 IMPORTANT INFO
Late News Abstracts Submission Deadline
August 1st, 2005
Manuscript Submission Deadline (invited, regular, late news)
September 1st, 2005
Revised Paper Deadline
October 14, 2005
Manuscripts for invited, regular, and late news papers, must be received by September 1, 2005, to be considered for inclusion in this conference.
Meeting Policies
Please review the following important meeting policies.
AMERICANS WITH DISABILITIES ACT
TMS strongly supports the federal Americans with Disabilities Act (ADA), which prohibits discrimination against and promotes public accessibility for those with disabilities. In support of and in compliance with ADA, we ask those attendees of EMC requiring specifi c equipment or services to indicate their needs on the enclosed housing form or to contact TMS Meeting Services.

AUDIO AND VIDEO RECORDING POLICY
TMS reserves the right to any audio and video reproduction of all presentations at every TMS sponsored meeting. Recording of sessions (audio, video, still photography, etc.) intended for personal use, distribution, publication, or copyright without the express written consent of TMS and the individual authors is strictly prohibited. Contact TMS Technical Programming to obtain a copy of the waiver release form.
Written requests for refunds must arrive at TMS Meeting Services, 184 Thorn Hill Road, Warrendale, PA 15086, USA no later than Monday, August 29. A $75 processing fee is charged for all cancellations. NO refunds are issued after the deadline date.
FOR MORE INFORMATION . . .
For more information regarding conference logistics, please contact:
Michael Packard, CMP
Manager, TMS Meeting Services
TMS
184 Thorn Hill Road
Warrendale, PA 15086
Telephone (724) 776-9000, ext. 225
Fax (724) 776-3770
E-mail packard@tms.org