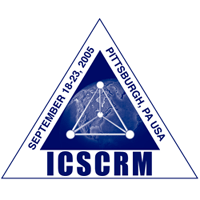 IMPORTANT INFO
Late News Abstracts Submission Deadline
August 1st, 2005
Manuscript Submission Deadline (invited, regular, late news)
September 1st, 2005
Revised Paper Deadline
October 14, 2005
Manuscripts for invited, regular, and late news papers, must be received by September 1, 2005, to be considered for inclusion in this conference.
Meeting Registration
Attendees, including authors, presenters, and session chairs are required to register. Authors are expected to present their papers in person at the conference. If an author must withdraw a paper, the technical program chair must be notified well in advance.
Advanced Registration is now closed. Registrations received after August 29th will be processed at the higher on-site fee. Download the Registration Form (PDF) for more information and instructions.
Written requests for refunds must arrive at TMS Meeting Services, 184 Thorn Hill Road, Warrendale, PA 15086, USA no later than Monday, August 29. A $75 processing fee is charged for all cancellations.
FOR MORE INFORMATION . . .
Please contact the Meeting Services Department at TMS for assistance or more information.
TMS Meeting Services
184 Thorn Hill Road
Warrendale, PA 15086
Toll Free (800) 759-4867 (U.S./Canada only) or
Telephone (724) 776-9000, ext. 243
Fax (724) 776-3770
mtgserv@tms.org.