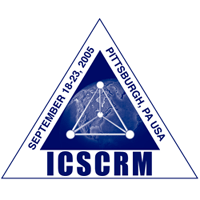 IMPORTANT INFO
Late News Abstracts Submission Deadline
August 1st, 2005
Manuscript Submission Deadline (invited, regular, late news)
September 1st, 2005
Revised Paper Deadline
October 14, 2005
Manuscripts for invited, regular, and late news papers, must be received by September 1, 2005, to be considered for inclusion in this conference.
Social Events
The following events are currently planned for the Int'l Conference on Silicon Carbide and Related Materials.
Welcoming Reception - Sunday, September 18, 6 to 8:30 p.m.
Continental Breakfast – daily; coffee, juice, breakfast pastries and fruit served before technical sessions
Session Breaks – mid-morning and afternoon; beverages and snacks outside the technical session rooms
Luncheon - Monday, Tuesday, Wednesday, Thursday, 12:15 to 1:30 p.m.
Poster Session/Breaks – Monday, Tuesday, Wednesday, Thursday, 1:50 to 4:10 p.m.; posters conveniently displayed outside the luncheon room at the convention center.
Date and Time: Tuesday, September 20th, Time to be announced
Free to full conference attendees, this gala event on Tuesday, September 20 begins with a reception of cocktails and hors d'oeuvres at the Carnegie Museum of Natural History. The museum was founded in 1895 by Andrew Carnegie. It conducts scientific inquiry that creates knowledge and promotes stewardship of the Earth and its life. Areas of the museum open to conference attendees include the Gems & Minerals and the Hall of Architecture Exhibits.
Sponsor an Event at ICSCRM 2005 and Solidify Your Company's Image. Event sponsorship includes: prominent on-site signage, sponsor information in meeting program, listing on ICSCRM web site, announcement at sponsored activity. Learn more about Corporate Sponsorship or for more information, please contact:
Cindy A. Wilson
TMS
184 Thorn Hill Road
Warrendale, PA 15086
Tel: 724-776-9000 x231
E-mail: wilson@tms.org