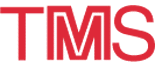 Tenth Biennial Organometallic Vapor Phase Epitaxy Workshop: Late News Abstracts
---
March 11-15, 2001 ·TENTH BIENNIAL ORGANOMETALLIC VAPOR PHASE EPITAXY WORKSHOP · San Diego, California
The Tenth Biennial Organometallic Vapor Phase Epitaxy Workshop (OMVPE), sponsored by the Electronic Materials Committee of The Minerals, Metals & Materials Society (TMS), will be held at the Hilton San Diego Resort, San Diego, California, March 11-15, 2001.

Whether in research or industry, OMVPE is a leading epitaxial-materials technology. The Tenth OMVPE Workshop follows the tradition begun at Cornell in 1983, and provides a forum for the exchange of recent scientific and technical knowledge. Scientists from industry, academia and government labs are invited to participate by presenting OMVPE-related papers. Technical sessions will cover the spectrum from fundamental to applied OMVPE topics. Exchange is an important feature of the workshop and the site and format have been chosen to promote informal interaction and communication.
LATE NEWS ABSTRACTS
Additional presentations will be considered as Late News Abstracts. A copy of the abstract should be submitted through the TMS website via the TMS Conference Management System or by contacting the Program Chair, Dr. Robert M. Biefeld, no later than February 11, 2001. Authors of accepted Late News Papers will be notified prior to the conference.
Dr. Robert M. Biefeld
Dept 1126 MS 0601
Sandia National Lab
PO Box 5800
Albuquerque, NM 87185-0601
Phone: (505) 844-1556
Fax: (505) 844-3211
---
The information on this page is maintained by the TMS Meetings Department (mtgserv@tms.org).