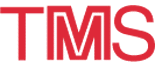 About the 9th International Symposium on Superalloys
---
9TH INTERNATIONAL SYMPOSIUM ON SUPERALLOYS
September 17-21, 2000 · Champion, Pennsylvania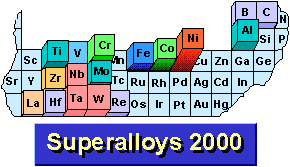 The 9th International Symposium on Superalloys, or Superalloys 2000, will be held from the evening of Sunday, September 17, until noon on Thursday, September 21, 2000, at the Seven Springs Mountain Resort in Champion, Pennsylvania.
The purpose of the International Symposium on Superalloys is to provide a forum for researchers, producers, and users to present the most recent technical information on a class of high-strength, high-temperature alloys commonly known as superalloys. The symposium, which as been held once every four years beginning in 1968, is sponsored by the Seven Springs International Symposium Committee in cooperation with The Minerals, Metals & Materials Society (TMS), the TMS High Temperature Alloys Committee, and ASM International.
As new details about the meeting are finalized, the information will be added to this site as quickly as possible. Anyone wishing to receive future mailings concerning the Superalloys 2000 symposium can send email to Tim Howson and request to be added to the mailing list.
---
SEVEN SPRINGS INTERNATIONAL SYMPOSIUM COMMITTEE
---
General Chair: Bob Kissinger, GE Aircraft Engines; Secretary: Tim Howson, Wyman-Gordon Co.; Treasurer: Gern Maurer, Special Metals Corp.; Program Chair:, Tresa Pollock, University of Michigan; Program Committee: Boyd Mueller, Howmet Corp.; Randy Bowman, NASA Lewis Research Center; Ken Green, Allison Engine Co.; Bob Kissinger, GE Aircraft Engines; Malcom McLean, Imperial College of Science, Technology, and Medicine, London; Jack Schirra, Pratt & Whitney. Publications Chair Ken Green, Allison Engine Company; Arrangements Chair: Jim Blair, Dynamet Powder Products; U.S. Publicity: Sonja Olson, GE Power Generation; International Publicity: Allister James, Rolls-Royce Aerospace Group; Awards Committee Chair: Doug Deye, Allied Signal Engines; Awards Committee: Bob Stusrud, Allison Engine Co.; Chuck Kortovich, PCC Airfoils, Inc.; Lou Lherbier, Dynamet Inc.
---
ABOUT THE SEVEN SPRINGS INTERNATIONAL SYMPOSIUM COMMITTEE
---
The Seven Springs International Symposium Committee is an organization made up of individual members from various industrial companies, institutions, and universities that make, use, sell, or study materials used in high-temperature, high-strength applications. The organization's primary function is to arrange an international symposium on superalloys, which is typically held every four years. This symposium is an opportunity for the exchange of technical papers on the design, processing, utilization, testing, and behavior of high-temperature materials. In addition to this symposium, the committee uses its resources to promote the dissemination of knowledge on high-temperature materials and to encourage students to participate in the study of these materials. The committee functions under the jurisdiction of the TMS Executive Committee. It is guided in the scope of its efforts in cooperation with the TMS High Temperature Alloys Committee.
---
---
The content of this site was developed by Randy Bowman (randy.bowman@lerc.nasa.gov); your feedback is welcome.