DRIP XIII: Tours and Attractions
The Oglebay Resort & Conference Center offers 1,700 acres of year-round recreational opportunities and excellent overnight accommodations while retaining its picturesque natural beauty.
OGLEBAY RESORT ACTIVITIES
Outdoor Activities
Nestled amidst the beauty of West Virginia's mountains, Oglebay offers 1700 acres of relaxation and recreation. Choose from dozens of activities to please a variety of discriminating tastes - from the state's only accredited zoo, to outdoor adventures including golf, tennis, and horseback riding. Many of the recreational amenities at Oglebay are offered year round, weather permitting - including golf on the Crispin Course. Affordably priced packages that include many of Oglebay's activities are offered throughout the year.
Those interested in spending the entire day participating in multiple activities may want to purchase an activity band at the resort's front desk, which allows access to many of the fun things Oglebay has to offer. For a complete menu of Oglebay activities, peruse the September Activites Calendar.
Indoor Activities
At Wilson Lodge, you will be treated to the very best. After your workout in the complete fitness center, relax in the heated indoor pool, Jacuzzi or sauna. The West Spa at Oglebay offers relaxing and therapeutic services, utilizing the finest products and equipment.
Fallingwater Tours
More than 1 million people from every corner of the earth have come to see Fallingwater – famed architect Frank Lloyd Wright's most widely-acclaimed work located in nearby Southwestern Pennsylvania. This masterpiece was built as a summer home for the Edgar Kaufmann family, who were prominent Pittsburgh merchants. Dramatic cantilevered terraces soar over a cascading waterfall. The living room hearth embodies an immense boulder in the setting nature created. Completed in 1939 with guest wing and servants' quarters, it is as fresh today as when it was built. This breathtaking house was judged but the American Institute of Architects in 1986 to be the nation's most successful example of architectural design. It is described as the cleanest expression of Wright's ideal… that man can live in harmony with nature. For Fallingwater tour information, visit the Web site at: http://www.fallingwater.org/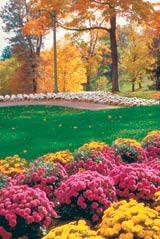 Discover West Virginia
Receive a free copy of the West Virginia Travel Guide and learn more about the local area and attractions. From unmatched outdoor recreation to world-class resorts, breathtaking scenery and a variety of cultural and historic attractions, find out everything you need to know to plan your trip to West Virginia.
Outdoor Enthusiast
Outdoor lovers call West Virginia the outdoor recreation capital of the East. That's not an exaggeration, considering the Mountain State's world-famous whitewater rivers, challenging mountain bike terrain, extensive trail system, great skiing, fantastic hunting and fishing, massive state and national parklands and the most extensive wilderness areas in this part of the country.
Culture and History
The caretakers of West Virginia's rich history bring the past to life for visitors through Civil War re-enactments, historic dramas and theater productions, the preservation of historic sites, and the careful retelling of events that have affected the state and the nation.
FOR MORE INFORMATION . . .
For more information about this conference, please submit a meeting information request form or contact:
TMS Meeting Services
184 Thorn Hill Road
Warrendale , PA 15086-7514 USA
Telephone (724) 776-9000, ext. 243
(800) 759-4TMS
Fax: (724) 776-3770
E-mail: mtgserv@tms.org