EMC 2009: The John Bardeen Award
John Bardeen's career of theoretical and experimental research set the foundation for the current state of understanding of electronic materials. Two areas in which Bardeen had great impact were the invention and development of the solid-state transistor and the theory that developed greater understanding of superconductivity.
Established in 1994, this award recognizes an individual who has made outstanding contributions, and is a leader, in the electronic materials field.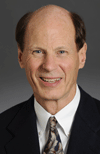 2009 Recipient: Robert F. Davis from Carnegie Mellon University
Citation: For his outstanding and creative contributions to science and technology of silicon carbide and group III nitrides
"John Bardeen cast a large shadow of excellence over the materials science and physics communities in terms of his considerable intelligence and his creation of new knowledge. I am pleased that TMS has chosen to recognize his genius with the John Bardeen Award. I am very honored to both be the recipient of this award for 2009 and to join the list of distinguished persons who received this award in prior years."
HOW TO NOMINATE A COLLEAGUE
Nominate a deserving colleague for the TMS 2010 John Bardeen award, or other select professional honors and awards. Visit the TMS Honors and Awards home page to review criteria and complete the online submission form, or stop by the EMC registration desk for more information.
FOR MORE INFORMATION . . .
For more information about EMC, complete the meeting inquiry form or contact:
TMS Meeting Services
184 Thorn Hill Road
Warrendale , PA 15086-7514 USA
Telephone (724) 776-9000, ext. 243
(800) 759-4TMS
Fax: (724) 776-3770
E-mail: mtgserv@tms.org