---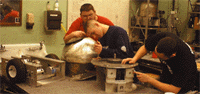 ---
Figure A. The Reactor, a fighting robot under construction, was created by Plymouth North High School students in Massachusetts.
---
When Nola Garcia visited Plymouth North High School this year, she observed a peculiar phenomenon: It was Friday, 4:30 p.m., and Michael Bastoni's students did not want to go home.
"He had to kick them out of the school," Garcia said. "Where do you see that happen?"
Bastoni has ignited student interest by connecting classroom theories with tangible, and even fun, challenges: race cars and robots. In May, his students will field two robots in a
BattleBots
competition. In August, the students will be among the first to participate in
BattleBots IQ—The High School Challenge
, putting their robots, Reactor and Gungir, to the test (
Figure A
).
The prospect of building battling robots has so captured students' interest they want to come to school— even on their days off.
"We pray for snow days so we can be in here alone and not have to go to class," Bastoni said. "They come in in droves on snow days."
Greg Munson, co-creator of
BattleBots
, said the high school version will launch a combination curriculum/ competition in which students, accompanied by a qualified instructor, build and battle robots. He plans to televise the competition in a spin-off series for younger audiences. The benefits, he hopes, would be two-fold:
BattleBots IQ
would inspire other schools to adopt the unusual curriculum, and it would cultivate a market for an upcoming BattleBot toy line. The youth market is a potential
BattleBots
niche that became apparent soon after the series premiered.
"We received e-mail from moms saying their kids would watch
WWF
(World Wrestling Federation) and they would go out and break furniture over each other in the backyard. They saw our show, got the
Legos
out, and started building something," Munson said. Needless to say, the mothers were not complaining.
---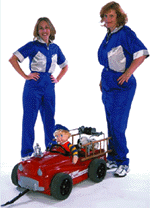 ---
Figure B. Buddy Lee Don't Play in the Street, the fighting robot built by BattleBots first all-woman team, Mercy Rueda, left, an electrical engineer at Florida International University, and Nola Garcia, pre-college programs coordinator for the university.
---
To formalize the educational component,
BattleBots
hired Garcia of South Miami, Florida. Garcia, pre-college programs coordinator for
Florida International University
, also organized the first all-woman
BattleBots
team, Team Fembot. Now, her schedule is full as she develops the curriculum while upgrading her team's robot, Buddy Lee Don't Play in the Street (
Figure B
).
Garcia has consulted with Bastoni to learn more about his robotics curriculum, which has been in place for six years. In addition, Alexander Slocum, a professor who specializes in robotics at the
Massachusetts Institute of Technology
, has been advising her.
"This is going to bridge math and science with the technical-vocational education, where they've been very separate until now," Garcia said. Garcia is convinced construction of that bridge is long overdue. After a notice of
BattleBots IQ
was posted on the
BattleBots
web site
, Garcia was inundated with enthusiastic messages from teachers, students, and engineers. As of last month, she was still choosing school districts to test the curriculum, which is planned to be instituted in the fall.
Garcia expects the curriculum to be built around a framework that includes honors physics, geometry, and technology classes with instruction on electrical systems and three-dimensional modeling.
In Bastoni's classes, where students have in the past built robots for less combative competition, individual strengths are given a chance to shine in a new approach to technical education.
"In the '70s, we would take the less motivated, less interested students and put them in the most interesting environments— metal shop, wood shop. . . and we would take these more motivated students and relegate them to a tremendous amount of seat time. I think what we've learned in the last decade was maybe we were doing it a little backwards," Bastoni said.
In the robotics class, students with welding skills are putting
BattleBots
together while the math wizards apply calculus expertise to the robot's movement. All types of students are needed to complete the project, Bastoni said, and all have something in common: "They're all hard working and motivated."
Bastoni, who visited
BattleBots
in November before deciding to commit his students to the competition, saw educational potential in the robot carnage.
"You've got robots, and they're fighting, but they're fighting for a reason, they're fighting for things like technical literacy, they're fighting for things like engineering environments in school. If you capture the imagination of young kids anyway, why not do something good with it?"
"It's not trash TV for the heck of it, it's trash TV with a purpose."
To see the latest activities of Bastoni's students, visit
http://pnta.org/battlebots/robotics.htm