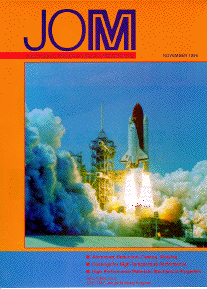 JOM: Volume 48, Number 11--November 1996


ABOUT THE COVER
Through collaborations and information exchange, scientists are making advances in the performance of materials at high-temperatures. This issue promotes that free exchange not only through its technical content, but also its preview of the 1997 TMS Annual Meeting. Fittingly, the meeting will held not far from Kennedy Space Center, where such information has found practical application. The picture is provided by the Orange County Convention and Visitors Bureau.

---
ALUMINUM
Conference Review:
Light Metals 1996: Advances in Aluminum Production [pp. 21-24]
Milind Chaubal, Christopher Hendriks, Fiona Jean McFadden, and Lise Castonguay

Featured Overview:
Limited Casting Resources Meet World Class Ingenuity [pp. 26-28]
George J. Binczewski

Overview:
Clay Alumina Brick Used in Anode Baking Furnaces [pp. 29-32]
Glenn F. Corliss and Mark A. Stett

Industrial Insight:
Trends and Needs in Can Stock: A Packaging Company's Perspective [pp. 33-36]
W.C. Hoyle and F.R. Setlak
COATINGS AND ENVIRONMENTAL EFFECTS
Overview:
Reviewing Sulfidation Corrosion-Yesterday and Today [pp. 37-39]
Norman S. Bornstein

Overview:
EB-PVD Technology in the Gas Turbine Industry: Present and Future [pp. 40-45]
B.A. Movchan

Overview:
The Oxidation and Protection of Gamma Titanium Aluminides [pp. 46-50]
Michael P. Brady, William J. Brindley, James L. Smialek, and Ivan E. Locci

Research Summary:
Erosion Studies on Duplex and Graded Ceramic Overlay Coatings [pp. 51-54]
Saifi Usmani and Sanjay Sampath
MECHANICAL PROPERTIES
Overview:
Microscopic Studies on Hydrogen Effects on Mechanical Properties [pp. 55-60]
I.M. Robertson and D. Teter

Research Summary:
The Fatigue and Fracture of Turbine Blade Alloys in High-Pressure Hydrogen [pp. 61-64]
D.P. DeLuca and B.A. Cowles

Research Summary:
The Fracture Behavior of Diffusion-Bonded Duplex Gamma TiAl [pp. 66-68]
G. Çam, K.-H. Bohm, J. Müllauer, and M. Koçak
DEPARTMENTS
In the Final Analysis [p. 2]
News & Update [pp. 8, 10-12, 14, 16]
Net Trans [p. 18]
Meetings Calendar [pp. 73-75]
Consultants Directory [p. 76]
Classifieds [pp. 76-79]
Retrospect [p. 80]
ALSO IN THIS ISSUE
Annual Meeting Registration Form [p. 6]
Annual Meeting Housing Form [p. 7] (.pdf file)
TMS News [pp. 69-71]
Professional Preface [insert]
Division News: LMD Edition [insert]
Annual Meeting Exhibition Preshow Report [insert]
Annual Meeting Technical Program [insert]


---
Direct questions about this or any other JOM page to jom@tms.org.