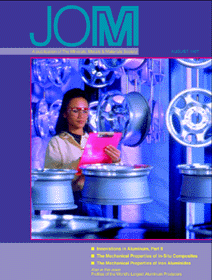 TABLE OF CONTENTS
Volume 49, Number 8--August 1997

ABOUT THE COVER
This issue presents the second part of the two-part series Innovations in Aluminum, which represents the proceedings of a symposium presented at the 1997 TMS Annual Meeting. Some of the world's top aluminum producers are also highlighted with 1996 annual report summaries. Included is Reynolds Metals Company.Shown in the cover photograph is the company's wheel plant in Beloit, Wisconsin. (Photo courtesy of Reynolds Metals Company.)

Click on the cover to see a full-page reproduction

---
---
Presentation of This Page Supported by
Click on the logo to see a full-page reproduction of the Consarc ad that appears in the August 1997 issue.
---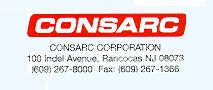 ---
INNOVATIONS IN ALUMINUM, PART II
A Technology Roadmap for the U.S. Aluminum Industry [pp. 18-21]
H.S. Kenchington, J.L. Eisenhauer, and J.A.S. Green

An Electroanalytical Sensor for Monitoring Alumina Concentration in Cryolite-Alumina Baths [pp. 22-23,68]
J.E. Oxley and R.J. Smialek

Evaluating a New Material for Hall-Héroult Cell Cathodes [pp. 24-25,71]
Thomas Mroz

Reprocessing Potliners from Hall-Héroult Cells [pp. 26,68]
James R. Divine

Degassing Aluminum Using Static Fine-Pore Refractory Diffusers [pp. 27-28,67]
D.A. Larsen

Replacing Al Powder with Al Slag or Recycled Foil in Cellular Concrete [pp. 29-30]
Jiann-Yang Hwang and X. Michael Song

Solid-State Spray Forming of Aluminum Near-Net Shapes [pp. 31-33]
Howard Gabel and Ralph Tapphorn
IN-SITU COMPOSITES
Commentary:
The Mechanical Properties of In-Situ Composites: An Introduction and Speculation [p. 34]
David L. Davidson

Overview:
The Mechanical Properties of In-Situ Composites [pp. 35-39]
R.M. Aikin, Jr.

Overview:
The Mechanical Behavior of In-Situ NiAl-Refractory Metal Composites [pp. 40-43]
J.-M. Yang

Overview:
Refractory Metal-Intermetallic In-Situ Composites for Aircraft Engines [pp. 44-45,67]
B.P. Bewlay, J.J. Lewandowski, and M.R. Jackson
IRON ALUMINIDES
Overview:
The Strength Properties of Iron Aluminides [pp. 46-49]
Kyosuke Yoshimi and Shuji Hanada

Overview:
Processing Iron-Aluminide Composites Containing Carbides or Borides [pp. 50-54]
R. Subramanian and J.H. Schneibel

Research Summary:
The Effect of Hydrogen on the Hardness of Fe-Al Alloys [pp. 56-59]
H. Hosoda, K. Mizuuchi, and K. Inoue
DEPARTMENTS
In the Final Analysis [p. 2]
Letters to the Editor [p. 6,8]
News & Update [pp. 10-17,33]
Material Matters: Understanding Copyrights: Ownership, Infringement, and Fair Use [p. 60]
Meetings Calendar [pp. 64-66]
Consultants Directory [pp. 69-71]
Classifieds [pp. 69-71]
Retrospect [p. 72]

ALSO IN THIS ISSUE
TMS Honors and Awards Nomination Form [insert]
Materials Week Registration Form [p. 4]
Materials Week Housing Form [p. 5]
TMS News [pp. 61-63]

---
Direct questions about this or any other JOM page to jom@tms.org.