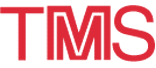 2001 TMS Banquet & Awards Presentation
---
February 11–15 · 2001 TMS ANNUAL MEETING · New Orleans, Louisiana



During the week of February 11–15, 2001, at the 130th Annual Meeting & Exhibition of The Minerals, Metals & Materials Society (TMS), you can join more than 4,000 science and engineering professionals, representing more than 70 different countries, who will come together for the opportunity to add to their own store of knowledge by capitalizing on the expertise and experience of their colleagues. More than 200 sessions and 1,000 individual presentations are scheduled. Whether your technical interests lie in precious metal extraction, aluminum processing, high-temperature superconductors, or just about any other materials field or metallurgical discipline, you will find programming that addresses your most pressing needs.

The 2001 TMS Annual Meeting & Exhibition will take place in New Orleans, Louisiana. The Hilton New Orleans Riverside Hotel will be the headquarters hotel for the event. All conference events, including registration, technical sessions, and the exhibition will take place at the Ernest N. Morial Convention Center.
TMS Banquet & Awards Presentation with Installation of 2001 TMS President
---

---

Y. Austin Chang
2000 TMS President

---

Wayne R. Hale
2001 TMS President

---
The TMS Annual Dinner and Awards Presentations will be held at 7:00 pm Tuesday, February 13, 2001, at the Hilton New Orleans Riverside. The highlight of the 130th TMS Annual Meeting will begin with a cash bar reception at 6:00 pm and dinner at 7:00 pm. Dark business suits are appropriate attire for the gentlemen.


Following dinner, 2000 TMS President Y. Austin Chang will present the TMS awards. The presentations will be followed by a short address by incoming 2001 President Wayne R. Hale.

Dinner tickets may be purchased at the TMS Annual Meeting Registration desk located at the La Louisiane Ballroom A in the Ernest N. Morial Convention Center. Please purchase tickets early as availability may be limited.

Wayne R. Hale is Vice President of Smelting, Refining & Power Generation at Rennecott Utah Copper in Magna, Utah. He is an active, long-term member of the Light Metals Divi-sion (LMD) and the Aluminum Committee. During his membership he has served as JOM advisor, chair of the LMD Aluminum Commit-tee and the LMD, and editor of Light Metals 1996. He also served as the principal orga-nizer for the TMS-sponsored 1997 industrial aluminum electrolysis course in Charleston, South Carolina.


---
The information on this page is maintained by the TMS Meetings Department (mtgserv@tms.org).